Published on June 2nd, 2007 10:49 pm EST
The good news? The poker boom is obviously not dead. The crowds already at the World Series of Poker are awe-inspiring. Anyone worried that the UIGEA would take a bit bite out of the numbers planning on playing at the World Series of Poker would have been sorely mistaken.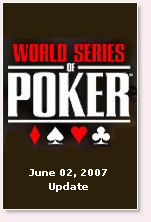 The bad news? According to preliminary reports, the World Series of Poker is hugely disorganized and is already a nightmare for some of the players.
Some of the problems that have been reported so far:
1. Long waiting lines. Players are arriving in the line-ups at 6 am and still having to wait hours to sign up.
2. Inept dealers. Some of the players that we have talked to have said that the dealing is quite possibly the worst that they have ever seen, with dealers misinterpreting rules and the floor having to constantly inform the dealers as to the proper rulings.
3. Multiple events causing chaos. Running two events in one day seemed like a great idea, however it is causing a real problem with table availability. Already events are being delayed and alternate space is being used that is not comfortable for players (poker tables instead of a tent, WTF).
4. Poor playing cards. This has already been resolved, but the playing cards that were first used in the first event were unanimously trashed by the players. Apparently they had a hard time telling cards apart from each other.
5. Satellite tournaments. Apparently these are completely disorganized and the casino requires so much information and paperwork to be filled out that it is taking an hour just to get the satellite off.
6. Giant line-ups. Did we say line-ups already? Line-ups out the door, around the block. Can't Harrah's open more registration windows?
So far, so bad for the World Series of Poker.
--
Filed Under:
The World Series of Poker