"November Nine" Will Begin Battle For WSOP Main Event Bracelet This Evening
Published on November 4th, 2013 3:32 pm EST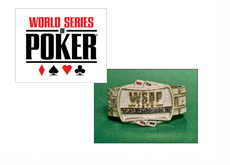 After months of waiting, the 2013 World Series of Poker final table will begin on Monday evening.
According to WSOP.com, the player introductions will begin at 7:30 pm EST, while the first hand will be dealt at around 7:45 pm EST.
ESPN2 will begin their coverage of the final table at 8 pm EST, and will not break away until the final hand of the day has been completed. There will be a 15 minute delay.
Action will play down on Monday night to an unspecified number of "final contenders" (depends entirely on how fast the eliminations take place on Monday), where the tournament will be paused for one final time. On Tuesday night, the "final contenders" will return to play down until a champion has been crowned.
--
In case you have forgotten, the "November Nine" looks like this:
JC Tran, 38,000,000
Amir Lehavot, 29,700,000
Marc McLaughlin, 26,525,000
Jay Farber, 25,975,000
Ryan Riess, 25,875,000
Sylvain Loosli, 19,600,000
Michiel Brummelhuis, 11,275,000
Mark Newhouse, 7,350,000
David Benefield, 6,375,000
Here is what they will be playing for:
1st - $8,361,570
2nd - $5,174,357
3rd - $3,727,823
4th - $2,792,533
5th - $2,106,893
6th - $1,601,024
7th - $1,225,356
8th - $944,650
9th - $733,224
--
WSOP.com has a list of the TV networks around the world who will be carrying the WSOP main event final table. You can access this list by clicking the link below.
Source: WSOP.com -
Your Guide to Following The Final Table
--
Filed Under:
The World Series of Poker