Farber and Riess To Battle For World Series of Poker Main Event Bracelet on Tuesday Evening
Published on November 5th, 2013 3:34 pm EST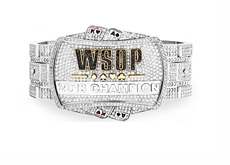 The 6,352 players who entered into the 2013 World Series of Poker main event have now been whittled down to just two - Jay Farber and Ryan Riess.
On Tuesday evening, at around 6 pm local time, Farber and Riess will reconvene one last time to find out who will be this year's World Series of Poker main event champion.
Both players are guaranteed a minimum of $5,174,357 for making it to the final two. The eventual winner of the event will take home $8,361,570, as well as the coveted World Series of Poker main event bracelet.
Here are the chip counts heading into Tuesday night's final battle:
Jay Farber, 105,000,000
Ryan Riess, 85,675,000
The blinds will be 500,000/1,000,000 with 150,000 antes when the action resumes on Tuesday evening.
--
Here is how the final table played out on Monday:
3. Amir Lehavot, $3,727,823
4. Sylvain Loosli, $2,792,533
5. JC Tran, $2,106,893
6. Marc-Etienne McLaughlin, $1,601,024
7. Michiel Brummelhuis, $1,225,356
8. David Benefield, $944,650
9. Mark Newhouse, $733,224
The final elimination on Monday night/Tuesday morning came when Amir Lehavot decided to make his last stand holding pocket Sevens. Lehavot pushed all-in pre-flop, only to be called by the pocket Tens of Ryan Riess. The board ran out Qc-8c-4h-2d-Jd, giving Riess the pot and eliminating Lehavot in third place.
The biggest hand of the final table (so far) saw Jay Farber and Marc-Etienne McLaughlin get into a massive pre-flop raising war. By the time that the two players were all-in there were more than 74 million chips in the middle of the table. The two players turned over:
Farber, A-A
McLaughlin, K-K
There would be no miracle cards for McLaughlin, as the board ran out 8-7-2-J-J, giving Farber the massive pot and eliminating McLaughlin in sixth place for $1,601,024.
--
Filed Under:
The World Series of Poker