Published on June 3rd, 2007 9:37 pm EST
This piece of news is absolutely mind-boggling to me, but it's true, and I can't say that I am surprised considering how the World Series of Poker has been run so far.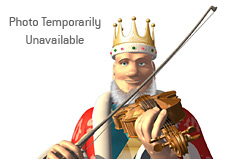 Richard "Quiet Lion" Brodie, who is a fixture at Full Tilt Poker, received a certified letter from Harrah's on May 10th, stating that he will no longer be allowed to set foot inside of Caesar's Palace (now owned by Harrah's) or any other Harrah's property in Nevada, California and Arizona. Brodie was one of a number of "high-rollers" that was banned from Harrah's properties. Obviously this means that he will not be able to play at the World Series of Poker.
For those of you who don't know, Richard Brodie was the original author of Microsoft Word, and employee #7 at Microsoft. He is obviously very rich.
The funny thing about this situation is that Brodie stated that he only played two games at Caesar's Palace: poker and video poker. Now, the house is taking their rake on each hand of poker, so Brodie didn't get banned for winning big at poker. Harrah's banned Brodie because he was a big winner at video poker. Video poker!
It's not like he was counting cards in blackjack, or running up a huge winning streak in sports betting. That would be different. Harrah's banned Brodie from their casinos because he got lucky playing video poker, and managed to hit four royal flushes. A game in which the "house" has it coded into their computer program the exact % amount that their customers will win over time. It is honestly ridiculous, and I can only hope that this story gets out, and Harrah's softens their stance. For a casino to ban someone for winning at video poker is absolutely ridiculous, and I feel sorry for Brodie, who doesn't deserve this fate. At all.
--
Filed Under:
The World Series of Poker
|
Other Poker News