Damon Shulenberger Wins APT-RWM Iron Man Poker Challenge
Published on December 15th, 2013 5:21 pm EST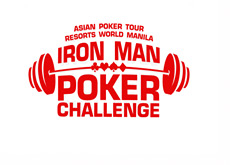 The Guinness record for "longest continuous poker tournament" was shattered this weekend, as Damon Shulenberger outlasted 114 other players to take down the APT-RWM (Asian Poker Tour-Resorts World Manila) Iron Man Poker Challenge after 48 hours, 55 minutes and 58.5 seconds of continuous play.
The previous record, which was set in a poker tournament in Delaware in August of 2012, stood at 36 hours, 34 minutes and 41 seconds. This record ended up being absolutely smashed, as the APT-RWM Iron Man Poker Challenge was still five-handed when the previous mark was passed.
--
As mentioned, Damon Shulenberger ended up outlasting everybody else to take down the first place prize of $18,240 (the buy-in was $700). Here is how the tournament ended up finishing out:
1st Damon Shulenberger (USA) - $18,240
2nd Choi Byung Kyoo (Korea) - $10,670
3rd Sandro Simon (Germany) - $7,390
4th Lim Dae Hoon (Korea) - $5,390
5th Florencio Campomanes (Philippines) - $4,460
6th Howard Ang Lee (Philippines) - $3,680
7th Gerry Flores (Philippines) - $3,030
8th Kim Jinwi (Korea) - $2,530
9th Norbert Koh (Singpore) - $2,180
--
Cameras were installed in order to "assure the integrity" of the record-breaking attempt. In addition, officials from the Phillippines Amusement and Gaming Corporation (PAGCOR) and independent auditors were also present to act as witnesses.
Players in the event were only given five minute breaks, with numerous participants falling asleep in their seats.
Source: TheAsianPokerTour.com -
APT-RWM Iron Man Poker Challenge Smashes World Record; American Shulenberger Named Champion
--
Filed Under:
Other Poker News