Partypoker To Become Official Online Gaming Partner of 76ers, Devils and Prudential Center
Published on January 8th, 2014 5:35 pm EST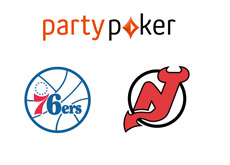 Earlier today, Partypoker officially signed a multi-year deal with the NBA's Philadelphia 76ers and the NHL's New Jersey Devils to become the official "online gaming partner" of the two clubs.
The deal is an important one, as it marks the first time that a US-based "Big Four" (NFL, MLB, NBA, NHL) team has inked a deal with an online gambling company.
The two teams are controlled by Josh Harris, who is the 48 year-old co-founder of Apollo Global Management. Harris-led investor groups purchased the Philadelphia 76ers in 2011 and the New Jersey Devils in August of 2013.
--
According to reports, the deal between Partypoker and the 76ers/Devils/Prudential Center is a multi-year deal that is worth "at least $10 million". As part of the deal, partypoker will become the "official online gaming partner" of the Philadelphia 76ers and New Jersey Devils. In addition, Partypoker will get "traditional in-arena advertising and television spots".
--
Some have called the deal "risky" and point out that the Devils and 76ers are two of the lower echelon teams in their leagues in terms of revenue creation, with the implication being that the top tier teams would never sign a deal with an online gambling firm.
As online gambling becomes more widespread in the United States, however, I would expect to see more deals similar to this one.
Source: Bloomberg.com -
Gambling Sponsorship for 76ers, Devils is First by U.S. Teams
--
Filed Under:
Other Poker News