Tortuous Three Year Wait Finally Over For Many
Published on February 28th, 2014 5:37 am EST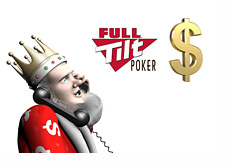 After a wait of nearly three years, many former customers of Full Tilt Poker are finally being reunited with their account balances.
Earlier tonight, the Garden City Group, Inc. ("GCG") confirmed that the first round of payments had started to be sent out. This was followed by many excited posts on Twitter confirming that money was, in fact, hitting bank accounts all over the United States.
Daniel Cates, aka "jungleman12", posted this on his Twitter account a few hours ago:
I MUST be dreaming. I got the wire for my FT balance. #Gardencity"
The GCG previously stated that over $80 million is being sent out in this first wave of payouts, with further rounds of payouts expected in the near future.
—
It's been a crazy ride for many former customers of Full Tilt Poker over the past three years as they have endured a roller coaster of emotional highs and lows.
"Black Friday". The rumored Groupe Bernard Tapie buyout. The Phil Ivey lawsuit. The scandal. The revelations. And finally, the purchase of Full Tilt Poker by Pokerstars as part of a settlement with the US government.
There were long stretches of time where it appeared that none of Full Tilt Poker's customers would be getting their balances back. Even after Pokerstars agreed to purchase Full Tilt Poker, it would still be roughly 18 months before US customers were reunited with their money.
—
With money now hitting bank accounts all over the country, many people will finally be able to put the greatest scandal in the history of online poker behind them and move on with their lives.
Congratulations to anyone who received their hard-earned money back today.
--
Filed Under:
Other Poker News