Second WCOOP Challenge Series To Run March 28th to March 30th
Published on March 11th, 2014 6:34 pm EST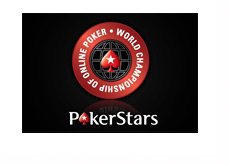 Pokerstars revealed earlier today that they will be hosting their second WCOOP (World Championship of Online Poker) Challenge Series later this month.
A total of nine tournaments will comprise the second ever WCOOP Challenge Series. The first event will begin at 13:00 ET on Friday, March 28th, while the last event will get underway at 15:30 ET on Sunday, March 30th.
Pokerstars is guaranteeing a total prize pool of $9 million for this series, with the main event paying out a minimum of $2 million. In addition to the cash prizes, each event will also pay out a ticket to the 2014 WCOOP Main Event to the winner ($5,200 value).
--
Here is the full schedule:
Friday, March 28
13:00 ET: WCOOP Challenge 01, $109 NL Hold'em, $600,000 gtd
17:00 ET: WCOOP Challenge 02, $215+R NL Hold'em (Turbo), $750,000 gtd
Saturday, March 29
11:00 ET : WCOOP Challenge 03, $700 NL Hold'em (Progressive Super-Knockout), $1,000,000 gtd
14:30 ET : WCOOP Challenge 04, $1,050 NL Hold'em (8-max), $1,000,000 gtd
17:00 ET: WCOOP Challenge 05, $215 NL Hold'em (6-max, turbo), $250,000 gtd
Sunday, March 30
11:00 ET: WCOOP Challenge 06, $215 NL Hold'em, $1,000,000 gtd
13:00 ET: WCOOP Challenge 07, $700 PL Omaha (6-Max, 1R1A), $400,000 gtd
14:30 ET: WCOOP Challenge 08, $215 NL Hold'em, $2,000,000 gtd
15:30 ET: WCOOP Challenge 09, $2,100 NL Hold'em Main Event, $2,000,000 gtd
Source: Pokerstarsblog.com -
$9,000,000 WCOOP Challenge Series is back, runs March 28-30
--
Filed Under:
Online Poker Rooms