Published on June 5th, 2007 5:25 pm EST
You don't want to get Tony G. pissed off at you.
Tony G today blasted Cardplayer.com, stating that the site was blatantly ripping off chip counts from pokernews.com and posting them on their own web site. In case you didn't know, Tony G is a major shareholder in the company that owns pokernews.com, amongst other sites. Pokernews.com successfully bid for the rights to be the exclusive site covering the 2007 World Series of Poker, including having people on the floor covering big hands and updating chip counts. Pokernews.com has 40 people covering the different events, and has presumably spent a lot of money purchasing both the rights to cover the WSOP and employing the people to cover it. Allegations that Cardplayer.com is stealing their information is pretty serious, and it is understandable that Tony G would be so mad.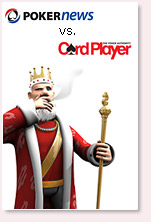 You have to ask yourself this question. If Pokernews.com is the exclusive provider of hand and chip count information, how is Cardplayer.com updating their site so fast? Where are they getting their information from if Pokernews.com is the sole provider of information? It seems pretty obvious that they are lifting this info from Pokernews.com.
This is a bit of an ironic twist, as previously Cardplayer.com had busted Bluff Magazine for copying their content, and now they seem to be doing it themselves. The evidence of copying seems pretty damning, but I would still be interested to hear cardplayer.com's side of the story.
Regardless, head over to pokernews.com, as they have EXCELLENT coverage of the World Series of Poker.. far better coverage than Cardplayer.com provided last year, in our opinion.
--
Filed Under:
Other Poker News