NJCOP To Run From April 19-27
Published on March 14th, 2014 2:05 am EST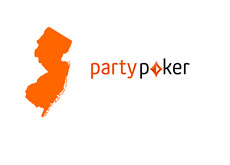 According to NorthJersey.com (link below), the "New Jersey Championship of Online Poker" (Aka the NJCOP) will be coming to New Jersey in the second half of April. The series, which will be hosted by Partypoker, will run on NJ.partypoker.com and BorgataPoker.com.
The inaugural NJCOP will run from April 19-27 and feature a total of 15 tournaments. There will be a total of $600,000 guaranteed over the course of the 15 tournament series, with the main event ($200 deepstack freezeout) featuring a guaranteed prize pool of $200,000, with the eventual winner being guaranteed a minimum of $50,000.
The NJCOP will take place at the same time as the WPT World Championship, which will be running at the Borgata from April 21st-26th. The tournament series will be open to residents and visitors to New Jersey, so Borgata/Party is obviously hoping that the people who are in town for the WPT World Championship will also play some NJCOP events.
Qualifiers for all 15 of the tournaments will begin on March 16th on both NJ.partypoker.com and BorgataPoker.com.
The first event of the NJCOP is a $50,000 freeroll, with all of the final table participants receiving entries to all 14 of the other NJCOP events.
--
Here is the complete NJCOP schedule:
April 19, 2014, NJCOP #1 - $50,000 Freeroll (Final Table wins entry to all NJCOP Events) Free, 4:00 PM
April 19, 2014, NJCOP #2 - $20,000 GTD $100.00, 7:00 PM
April 20, 2014, $5,000 Mega Re-buy Satellite to NJCOP #3 – 25 seats GTD, $10.00 2:00 PM
April 20, 2014, NJCOP #3* - $100,000 GTD ($25,000 for 1st) $200.00 5:00 PM
April 20, 2014, NJCOP #4 - $10,000 GTD PLO (Re-buy) $50.00 6:00 PM
April 20, 2014, NJCOP #5 - $20,000 GTD Bounty $100.00 7:00 PM
April 21, 2014, NJCOP #6 - $20,000 GTD 6-Max $100.00 7:00 PM
April 22, 2014, NJCOP #7 - $20,000 GTD (Re-buy) $50.00 7:00 PM
April 23, 2014, NJCOP #8 - $20,000 GTD $100.00 7:00 PM
April 24, 2014, NJCOP #9 - $20,000 GTD 'Player's Choice' $100.00 7:00 PM
April 25, 2014, NJCOP #10 - $20,000 GTD 6-Max $100.00 7:00 PM
April 26, 2014, NJCOP #11 - $30,000 GTD $200.00 5:00 PM
April 26, 2014, NJCOP #12 - $20,000 GTD Bounty $100.00 7:00 PM
April 27, 2014, $5,000 Mega Re-buy Satellite to NJCOP #13 – 25 seats GTD $10.00 2:00 PM
April 27, 2014, NJCOP #13* - $200,000 GTD MAIN EVENT ($50,000 for 1st) $200.00 5:00 PM
April 27, 2014, NJCOP #14 - $30,000 GTD Highroller $500.00 6:00 PM
April 27, 2014, NJCOP #15 - $20,000 GTD $100.00 7:00 PM
--
Source: Northjersey.com -
Partypoker to host 1st "New Jersey Championship of Online Poker" April 19-27
--
Filed Under:
Online Poker Rooms