"Flipout Festival" To Run From March 21st to March 24th
Published on March 19th, 2014 3:46 pm EST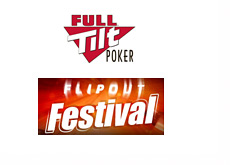 Earlier today, Full Tilt Poker formally introduced their "revolutionary Flipout Poker Tournaments". To coincide with the launch, FTP also unveiled details on their upcoming "Flipout Festival" that will run from Friday, March 21st to Monday, March 24th.
The "Flipout tournaments" begin with a Shootout round that will be in a Flip Tournament format. So, each player at the table will be forced to go all-in on every hand during the Shootout round. Once the Shootout round has been completed, the winner from each table will be reseated and the tournament will play out in a standard format.
Each player that advances through the shootout round will be guaranteed a payout.
--
To coincide with the release of this new tournament format, Full Tilt Poker will be launching their very first "Flipout Festival". This festival will run from Friday, March 21st to Monday, March 24th.
There are a total of 12 events, and each event will feature a total of 9 tournaments. Each event will start with a freeroll tournament, and each event will feature tournaments with progressively higher buy-ins.
For instance, Event #1 will kick off at 11:00 ET on Friday, March 21st with a freeroll ($50 added). Five minutes later, tournament #2 of this event will kick off and it will feature a buy-in of $0.22. A tournament will begin every five minutes, with Tournament #9 featuring a total buy-in of $26.
Each of the 108 tournaments that comprise the "Flipout Festival" will have money added to the prize pool by Full Tilt Poker. Full Tilt will be adding a total of $25,000 over the course of the series.
--
Source: Full Tilt Poker -
Flipout Festival Schedule
--
Filed Under:
Online Poker Rooms