Partnership Comes Months After Partypoker Inked Deal with New Jersey Devils, Philadelphia 76ers
Published on March 24th, 2014 4:35 pm EST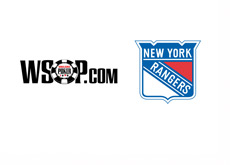 A few months after Partypoker inked deals with the New Jersey Devils and the Philadelphia 76ers, WSOP.com has signed a deal of their own with the NHL's New York Rangers.
A promotional page on WSOP.com, circulated by many on Twitter, revealed that WSOP.com is now the official gaming partner of the New York Rangers. WSOP.com and the New York Rangers are currently hosting a promotion where a New York Rangers "legend" will come to the home of the winner and watch a game between the Rangers and the Montreal Canadiens. I've included a link to the promotion below.
--
As mentioned, Partypoker signed a multi-year deal with the Philadelphia 76ers and New Jersey Devils back in early January. The deal was significant as it marked the first time that a US-based "Big Four" (NFL, MLB, NBA, NHL) team had inked a deal with an online gaming company.
The 76ers and Devils are both controlled by Josh Harris, who had previously promised to find some innovative ways of generating new revenue streams for the two teams.
The deal between Partypoker and the 76ers/Devils, which was reportedly worth over $10 million, saw Partypoker become the official online gaming partners of the two teams. In addition, Partypoker received in-arena advertising and television spots as part of the deal.
--
The exact terms of the deal between WSOP.com and New York Rangers haven't been revealed as of yet.
The New York Rangers are one of the NHL's most valuable franchises, as Forbes recently valued them at $850 million. According to the magazine, the Rangers generate over $131 million per year in revenues.
Source: WSOP.com -
Get Home Ice Advantage
--
Filed Under:
Online Poker Rooms