$3.2 Million in Online Poker Revenues, $11.9 million in Internet Gaming Revenues
Published on April 14th, 2014 5:16 pm EST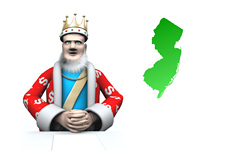 New Jersey's Division of Gaming Enforcement released March's gaming numbers for the state earlier today.
According to the DGE, total Internet gaming revenues came in at $11.9 million in March, up 15% from the month before.
Of that total, $3.2 million was in the form of online poker revenues, which was up slightly from the $3.1 million in online poker revenues that were posted in the month of February.
--
Let's take a look at the online poker revenues by company in March:
Borgata Hotel Casino & Spa - $1,642,314
Caesars Interactive Entertainment New Jersey - $1,468,035
Golden Nugget Atlantic City, -
Tropicana Casino & Resort, -
Trump Plaza Associates, $25
Trump Taj Mahal Associates, $100,289
Total - $3,210,663
--
The online gaming numbers by company in March:
Borgata Hotel Casino & Spa - $4,395,734
Caesars Interactive Entertainment New Jersey - $3,716,873
Golden Nugget Atlantic City - $677,746
Tropicana Casino & Resort - $1,895,826
Trump Plaza Associates - $509,556
Trump Taj Mahal Associates - $682,639
Total - $11,878,374
--
Finally, the taxes paid by each company in March:
Borgata Hotel Casino & Spa, $659,362
Caesars Interactive Entertainment New Jersey, $557,679
Golden Nugget Atlantic City, $101,662
Tropicana Casino & Resort, $284,374
Trump Plaza Associates, $76,433
Trump Taj Mahal Associates, $100,187
--
Source: NJ.gov -
Monthly Internet Gross Revenue Reports
(*.pdf)
--
Filed Under:
Other Poker News