Ultimate Poker Celebrates Its First Anniversary
Published on May 1st, 2014 7:24 pm EST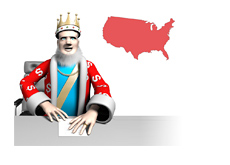 On April 30th, 2013, Ultimate Poker dealt the very first hand of legal (explicitly permitted by law, anyways) real money online poker in the state of Nevada.
Over the following year, two more sites would launch in the state - WSOP.com (launched in September of 2013) and Real Gaming (launched in February of 2014). According to Nevada's State Gaming Control Board, the state's three current online poker rooms have generated a total of $9.45 million in revenues.
In addition to Nevada, New Jersey and Delaware also launched real money online gaming in their states over the past year. New Jersey's Governor Chris Christie had been especially optimistic about the prospects of real money online gaming in his state, but his government has had to drastically decrease their online gaming revenue projections multiple times. New Jersey's Division of Gaming Enforcement revealed that the six companies that are currently active in Internet gaming in the state (Borgata Hotel Casino and Spa, Caesars Interactive New Jersey, Golden Nugget Atlantic City, Tropicana Casino and Resort, Trump Plaza Associates, Trump Taj Mahal Associates) brought in a total of $11.9 million in Internet gaming revenues in the month of March.
Delaware's three online gaming operations (Delaware Park, Dover Downs, Harrington), on the other hand, combined to bring in roughly $310,000 in revenues in January and February combined.
In an effort to increase the size of player pools, Nevada and Delaware signed an online poker compact that they hope will include other states in the future.
Speaking of other states, the general consensus is that California and Pennsylvania will be the next states to offer online gaming to their residents.
--
There have been a number of stories that have dominated the first year of legalized and regulated online poker in the United States. They are:
1) Troubles over properly geo-targeting players
2) Some major banks and credit card companies refusing to process online gaming transactions, even in states where it is legal
3) The under-whelming (at least according to estimates from politicians) revenues that have been generated from the online gaming sites
4) The shutting out of Pokerstars from Nevada, New Jersey and Delaware
5) Sheldon Adelson's campaign to ban real money online gaming in the United States
What kind of growth will we see in Nevada, New Jersey and Delaware over the coming year? How much success will the deep-pocketed Adelson have in trying to ban real money online gaming? Which states will be next to open their doors to online gaming?
Another very interesting year approaches in the US online gaming landscape..
--
Filed Under:
Other Poker News