Mike Matusow Biopic In Development
Published on May 14th, 2014 7:38 pm EST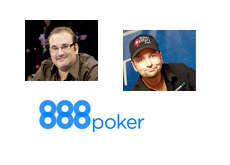 1. Mike Matusow Biopic Under Development.
According to Variety.com (link below), a biopic about Mike "The Mouth" Matusow is currently under development. The project, which is being produced by Adi Shankar, Spencer Silna and David Uslan, will reportedly be based on Matusow's autobiography "Check-Raising The Devil".
Mike Matusow has certainly had an interesting life and there is no doubt that it will make for an interesting movie. Matusow has lived through tremendous highs (World Series of Poker victories, 2005 WSOP Tournament of Champions) and unbelievable lows (jail, battle with addictions, etc), which should make for a pretty compelling movie. Despite all of his flaws, Matusow remains one of the most likeable figures in the poker world.
There is no word as of yet as to when this movie may hit theatres..
Source: Variety.com -
Poker Pro Mike 'The Mouth' Matusow Heading for Big Screen
2. Ivey/Negreanu Bracelet Bet.
Do you want to bet against Phil Ivey and Daniel Negreanu winning a World Series of Poker bracelet this summer?
Daniel Negreanu revealed the terms of the bet via his Twitter feed, and the bet is available to the public. Here is what Negreanu had to say:
"WSOP Bracelet Bet Offering: me and @philivey as a team, you can bet the don't on either of us winning a bracelet this summer at even money."
"Min bet is $5k against me and Ivey winning a bracelet this summer and the odds are even money. One of us wins- you lose. Simple."
If you are interested in the bet:
"If I don't know you, and you want to bet against me and Ivey winning a bracelet this summer, email pattylandis@hotmail.com for wiring info."
3. Luis Suarez Signs With 888poker.
888poker revealed earlier today that they have signed Liverpool FC striker Luis Suarez to a brand ambassador deal.
Suarez, who is one of the top soccer players in the world, will join Georges St. Pierre and Shane Warne as brand ambassadors for the site.
--
Filed Under:
Other Poker News