Selbst Takes Down $25,000 Mixed-Max No Limit Hold'em Event for $871,148
Published on May 30th, 2014 9:53 pm EST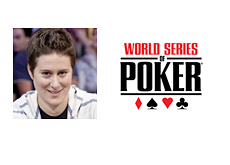 Vanessa Selbst continued to prove that she is one of the best poker players in the world on Friday night when she took down Event #2 ($25,000 Mixed-Max No Limit Hold'em) of the 2014 World Series of Poker for $871,148. This was the third World Series of Poker bracelet of Selbst's career, and the Brooklyn, New York native now has over $10.5 million in lifetime "live" tournament earnings.
This was the first bracelet to be won at this year's World Series of Poker in an open event.
-
Winning her third World Series of Poker bracelet certainly wasn't easy for Selbst as she had to overcome substantial chip deficits in both the semi-finals and finals of the event.
After the first 52 hands of the final table, Jason Mo was able to build up a 8.14 million to 1.68 million chip lead. A 20 minute break came at the perfect time for Selbst, as she was able to regroup and watch some of the live stream to get a better read on her opponent. The twenty minutes were very well-spent for Selbst, as she won the tournament just 20 hands later.
The hand of the tournament came during a five million chip pot that was won by Selbst. With the board reading 10h-Jd-5s-Qh-2s, Jason Mo led out for a bet of 1.315 million with 2.5 million in chips already in the middle. Selbst called and flipped over pocket Queens for a set, while Mo showed his As-Qs for a pair of Queens. Mo was never able to regain the lead after that and was eliminated a short while later.
The final hand of the event came when Mo shoved all-in pre-flop with about 2.5 million in chips. After a bit of thought, Selbst called with Kh-Jc and the two players turned over:
Mo - 9d-7d
Selbst - Kh-Jc
The board ran out 10c-As-2c-Ad-Js, giving Selbst a pair of Jacks and the bracelet.
--
Filed Under:
The World Series of Poker