Negreanu Finishes Second in $10k No Limit 2-7 Draw Lowball Championship
Published on June 6th, 2014 2:55 am EST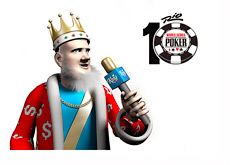 The eyes of the poker world were on the $10k No Limit 2-7 Draw Lowball Championship final table at the World Series of Poker earlier tonight.
Sure, there were a number of very recognizable names taking part in the final table (Negreanu, Jason Mercier, Brian Rast, etc). Sure, Daniel Negreanu was going for his seventh World Series of Poker bracelet, which would have put him into a tie with Billy Baxter and Men Nguyen on the all-time list.
The real reason why people were so interested in the result of the final table, however? The Phil Ivey/Daniel Negreanu bracelet bet.
Prior to the start of the World Series of Poker this year, Daniel Negreanu announced that he and Ivey were accepting bets as to whether or not they would be able to win a bracelet between the two of them this summer. The bet terms: even money - if Ivey or Negreanu managed to win a bracelet this summer, their side would win. If they didn't manage to win at least one bracelet between the two of them, their side would lose.
The duo took the unusual step of opening up the bet to the general public. If you had at least $5,000, you could bet on the "against" side, provided that you wired the money in first. A number of people in the poker world took them up on the bet. There has been no indication as to how much money was bet against Ivey/Negreanu, but the number must be substantial given the number of people that reportedly placed the bet.
-
Daniel Negreanu appeared to be poised to win the bet early in the series when he made a deep run at the $10k No Limit 2-7 Draw Lowball Championship this week.
Negreanu was confident and the players were dropping fast. Eventually it ended up with Paul Volpe and Negreanu in a heads-up battle for the bracelet. Volpe started heads-up play with a significant chip advantage, but Negreanu remained very confident.
In the end, Volpe was able to finish out the tournament and win the bracelet, much to the delight of the people who bet against Negreanu and Ivey.
Here is what Negreanu said after being eliminated:
"Good run, came second to a great young player @paulgees81 going to jump right into the next one and make another run. Fun stuff :-)"
-
So, Negreanu ended up falling just short, which means that the Negreanu/Ivey bet continues..
--
Filed Under:
The World Series of Poker