Borgata/Partypoker Brings in $4,018,244 in Revenues in May
Published on June 12th, 2014 5:15 pm EST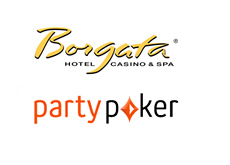 The monthly Internet gross revenue report from New Jersey's Division of Gaming Enforcement was released earlier today.
According to the report, the Borgata/Partypoker network generated a total of $4,018,244 in revenues in May. Of that total, $1,206,261 was generated from their online poker business, while the remainder ($2,811,983) was generated from their other authorized games. The Borgata/Partypoker network paid a total of $602,746 for the 15% tax that is imposed on Internet Gaming Gross Revenue.
These numbers mean that the Borgata/Partypoker network took 38.4% of the total New Jersey online gaming market share in May, far ahead of competitors such as Caesars Interactive Entertainment and Golden Nugget Atlantic City.
-
Let's take a look at the numbers by network in May:
Borgata/Party
Peer-to-Peer Games, $1,206,261
Other Authorized Games, $2,811,983
Total, $4,018,244
Caesars Interactive Entertainment/888
Peer-to-Peer Games, $1,027,161
Other Authorized Games, $1,762,195
Total, $2,789,356
Golden Nugget Atlantic City
Peer-to-Peer Games, -
Other Authorized Games, $610,949
Total, $610,949
Tropicana Casino & Resort
Peer-To-Peer Games, -
Other Authorized Games, $1,876,203
Total, $1,876,203
Trump Plaza Associates/Betfair
Peer-To-Peer Games, $5
Other Authorized Games, $677,448
Total, $677,453
Trump Taj Mahal Associates/Ultimate Gaming
Peer-To-Peer Games, $40,230
Other Authorized Games, $457,498
Total, $497,728
-
Source: NJ.gov -
Monthly Internet Gross Revenue Reports
--
Filed Under:
Online Poker Rooms