888Poker May Terminate Sponsorship Deal After Suarez Allegedly Bit Italian Player
Published on June 25th, 2014 6:20 pm EST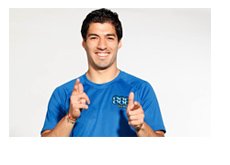 888Poker's sponsorship deal with Uruguay and Liverpool striker Luis Suarez could end up being one of the shortest on record following an incident that took place at the World Cup earlier this week.
In a crucial clash between Uruguay and Italy in Group stage action at the World Cup earlier this week, Luis Suarez reportedly bit Italy defender Giorgio Chiellini at a key juncture of the game. There was roughly 10 minutes left in the game at the time of the incident and the score was 0-0. A draw for Italy, which was playing with just 10 men, would see them advance to the Round of 16. A victory for Uruguay and they would go through at the expense of Italy.
Suarez was not given a red card for his bite as the referee missed the incident, despite Chiellini partially removing his jersey to show the bite marks. Uruguay scored a few moments later and moved on to the Round of 16 while Italy and its supporters were left to rage.
This is not the first time that Suarez has bitten a player during a game - as a matter of fact, he has done this twice before (once with Ajax, once with Liverpool). In addition, Suarez was also suspended for racially abusing one of his opponents.
FIFA immediately opened an investigation of the incident and Suarez may find himself banned from international competition for a period of two years.
-
Suarez, who is considered to be one of the top five players in the world, has a number of sponsorship deals with the likes of Adidas and 888Poker.
Here is what 888Poker had to say about the state of their relationship with Suarez after the incident:
"Following recent allegations made against Luis Suarez, we are reviewing our relationship with him. We will not tolerate unsporting behavior."
Suarez had just signed his deal with 888Poker last month.
Many people are wondering why 888Poker signed Suarez in the first place given his history of offensive behavior.
It seems a given at this point that 888Poker will be severing their relationship with the Uruguayan striker.
Source: Guardian.com -
Luis Suarez Set to Lose Endorsement Deal With Poker Firm Over Bite
--
Filed Under:
Online Poker Rooms