Jorryt van Hoof Will Begin Final Table With Chip Lead
Published on July 15th, 2014 4:17 pm EST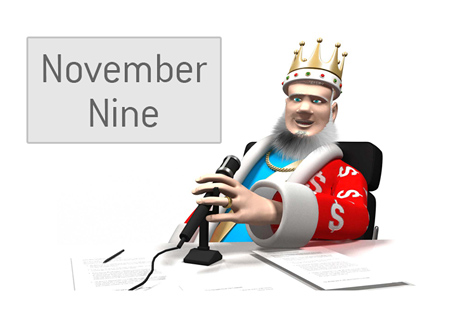 After a number of long days of play and many thousands of eliminations, the 2014 World Series of Poker "November Nine" has now been set.
Here are the chip counts heading into November's final table:
Jorryt van Hoof, 38,375,000
Felix Stephensen, 32,775,000
Mark Newhouse, 26,000,000
Andoni Larrabe, 22,550,000
Dan Sindelar, 21,200,000
William Pappaconstantinou, 17,500,000
William Tonking, 15,050,000
Martin Jacobson, 14,900,000
Bruno Politano, 12,125,000
One of these nine men will walk away with the guaranteed first place prize of $10,000,000 when the tournament plays to its conclusion in November.
-
Here are the final table payouts:
1st, $10,000,000
2nd, $5,145,968
3rd, $3,806,402
4th, $2,848,833
5th, $2,143,174
6th, $1,622,080
7th, $1,235,862
8th, $947,077
9th, $730,725
The nine men will all collect the ninth place prize money ($730,725) immediately, while the remainder of the pool will be held until the tournament concludes later in the year.
-
The biggest story of the final table? Mark Newhouse's incredible feat of making it to his second straight "November Nine" final table. Newhouse was able to navigate his way through a field of over 6,000 players to become the first person to ever make two World Series of Poker final tables in a row in the "November Nine" era.
The last player to make two World Series of Poker main event final tables in a row? Dan Harrington, who made the final table in both 2003 and 2004. The field sizes, however, were much smaller (839 players and 2,576 players), which makes Newhouse's accomplishment all the more incredible.
Mark Newhouse has experienced unbelievable highs and soul-crushing lows during his career as a professional poker player and it will be interesting to see how his story plays out in November. Newhouse finished a disappointing 9th at last year's final table - where we he finish this year?
-
Six different countries will be represented at the final table - United States, Netherlands, Norway, Spain, Sweden and Brazil.
The "November Nine" final table will officially get underway on November 10th, with the tournament set to reach its conclusion the next day.
--
Filed Under:
The World Series of Poker