Published on June 10th, 2007 7:06 pm EST
Depending on how you look at it, the World Series of Poker is either off to a great start or a horrific start.
In terms of player turn-out, the World Series of Poker has shown no signs of suffering in the post-UIGEA environment. One of the $1500 No Limit Hold'em event had the third largest turn-out of any World Series of Poker event EVER, only lagging behind the 2005 and 2006 World Series of Poker main events. Turn-out for each event has surpassed tournament organizer expectations.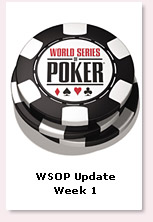 The downside? Extremely long lines for players to sign-up; a lack of tables that has resulted in some tournaments being played in a tent (fierce windstorms have resulted in extremely unfavorable playing conditions for players); and there is a general consensus that the quality of dealers at the event leaves much to be desired. The tournament already faced a mass revolt from players due to the quality of playing cards they started with, and there have been other assorted complaints, ranging from starting times to finishing times to misplaced registration information to a lack of understanding of poker rules. Let's hope that the World Series of Poker gets their act together going forward. The fact that they sometimes have 4-5 events going on at the same time combined with the overage of players that they were expecting has overwhelmed tournament staff.
So far, "online" poker pros and live poker pros have both fared well. Steve "MrSmokey1" Billrakis won the first bracelet of the World Series, taking down the $5k Mixed Hold'em / No Limit Hold'em event. Burt Boutin, a live pro, scored one for the live pros by taking down the $5k PLO Rebuy event, besting an incredibly tough field, filled with pros.
"Online poker" pros looked to be on their way to scoring another bracelet, as Justin "Zeejustin" Bonomo looked to be well on his way to taking down the $2k No Limit Hold'em event. Similar to his downfall at the 2007 PCA, Bonomo's pocket Kings ran into Pocket Aces, and he was soon bounced from the event in fourth place.
Phil Ivey looked to be poised to win yet another bracelet, but ended up finishing in second place in the $5k Seven Card Stud event, finishing just behind Chris Reslock. Ivey, who originally said that he was going to be playing two events at the World Series, seems to have changed his mind, and looks serious about winning another bracelet.
The cash games have provided a lot to talk about as well. Most notably, Brian Townsend's huge win in a No Limit Hold'em / PLO mixed game, that started out as a heads-up duel between him and Sam Farha, and ended up a huge game that involved Antonius, Benyamine and other players. Townsend walked away a huge winner, taking down about $2.5 million dollars over just a couple of days.
Also, Vinny Vinh was second in chips after day 1 of the $1k Rebuy event and then disappeared; Dutch Boyd has gained about fifty pounds and there have been other various shenanigans involving young poker players. Most details to come!
--
Filed Under:
The World Series of Poker