Full Tilt Poker Site Redesign Leaves Out The "Professionals"
Published on October 19th, 2014 9:26 pm EST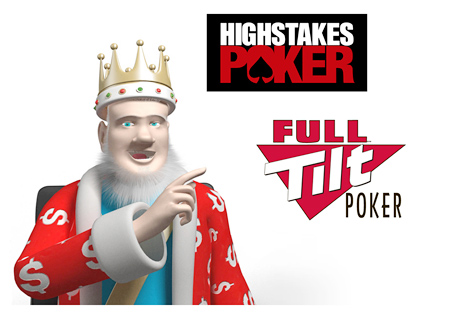 1. Is High Stakes Poker Returning?
Earlier this week, a video was released on GSN's ("Game Show Network") official Youtube channel that pointed people towards a SurveyMonkey.com questionnaire. The survey, which can be found below, asks a number of questions such as "Do you watch High Stakes Poker online?" and "In a typical month, how often do you watch High Stakes Poker on television?"
The survey has obviously led to speculation that "High Stakes Poker" may soon be making a return to the airwaves. Given the fact that a number of states, including New Jersey and Nevada, have legalized online poker over the past couple of years, GSN may be coming to the conclusion that the appetite for televised poker content is likely on the upswing once again in the United States. GSN stopped airing "High Stakes Poker" after "Black Friday" took place but the changing legal situation in the United States for online poker may have them plotting a comeback for the show.
It's safe to say that the show went off the rails when Gabe Kaplan was replaced by Norm MacDonald as the host following Season 6, and it's also safe to say that the show would need Kaplan to return in order to be a success.
2. Gus, "Isildur1" Gone at Full Tilt Poker?
Full Tilt Poker recently redesigned their website and there is a very notable omission - "The Professionals".
Back when Full Tilt Poker 2.0 launched a couple of years ago, the site made a big splash by signing Gus Hansen, Tom "durrrr" Dwan and Viktor "Isildur1" Blom to sponsorship deals. The trio, known officially as the "Professionals", were three of the most legendary high stakes cash game players at the time.
Tom Dwan and Full Tilt Poker severed ties a while ago, leaving just Hansen and Blom as sponsored pros for the site. Those two sponsorship deals may be done now as well (though nothing has been officially confirmed as of yet) if we are to go by the fact that Full Tilt makes no mention of Blom or Hansen on their site now.
Amaya Gaming Group has been cutting costs (terminating some sponsorship deals, cutting ties to some high-profile affiliates) following their takeover of Oldford Group earlier in the year, which is why it would not be a surprise if they did decide to part ways with Blom and Hansen. Again, this is just a rumor, though the Full Tilt redesign seems to indicate that "Isildur1" and "The Great Dane" are not in the company's future plans.
-
Source:
GSN Survey
--
Filed Under:
Online Poker Rooms
|
Poker on Television