Somerville Brings Large Twitch.tv Fan Base With Him To Pokerstars
Published on March 2nd, 2015 4:31 am EST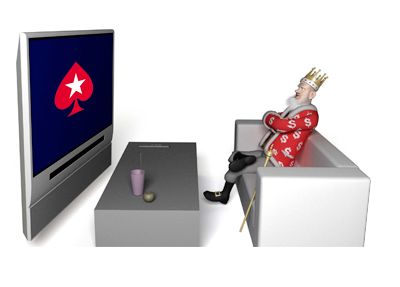 Shortly after signing with Pokerstars to become the newest member of "Team Pokerstars Pro", Jason Somerville had this to say about the current state of online poker sponsorships:
"One of the things I've learned in the last few years is that these kinds of sponsorships are co-promotion partnerships. They're not like the old days where a poker site would put a patch on a player, and they would be a walking billboard. That no longer has a return on the investment for the poker site."
Shortly after completing their $4.9 billion purchase of Pokerstars and Full Tilt Poker, Amaya Inc. culled their roster of sponsored players on both sites. Even Gus Hansen and Viktor "Isildur1" Blom, two of the biggest names in the poker world, parted ways with Full Tilt Poker.
As Somerville mentioned, it's now not enough to just wear a patch and show up occasionally to play a few games on the site that sponsors you. Companies such as Amaya, Inc., who have significant expenses and are looking to make as much money as possible, are now only interested in new sponsorship deals that help to penetrate new markets (Japan, India) and niches (video game streaming, in the case of Somerville).
Somerville's resume of poker accomplishments is undoubtedly impressive. Not only does he have a World Series of Poker bracelet to his name, but he also has nearly $4 million in live tournament cashes.
Having said that, $4 million in live cashes and a WSOP bracelet wouldn't have earned Somerville (formerly sponsored by Ultimate Poker) a deal from Pokerstars on its own. Somerville also brought to the table a very valuable asset - nearly 54,000 followers on Twitch.tv, which is a streaming site that is primarily used by video game players.
Somerville's "Run It Up" series, where he attempts to run up $50 to $10,000, has proven to be phenomenally successful on Twitch.tv. This popularity caught the eye of Pokerstars and eventually resulted in them signing Somerville (jcarverpoker on Twitch.tv) to a deal. Now when you tune in to watch "Run It Up" on Twitch.tv, you will see the Pokerstars brand (as a matter of fact, Pokerstars has created their own branded channel on Twitch.tv as well).
-
Twitch.tv was purchased by Amazon in the summer of 2014 for nearly $1 billion. The site now boasts over 100 million users and Pokerstars is obviously looking to tap into this rapidly expanding market. Video games, as evidenced by the success of Twitch.tv and World of Warcraft tournaments across the world, have proven to be quite an alluring spectator sport for many people. Will this success in video game streaming transfer over to the online poker market? Pokerstars hopes so.
-
As mentioned, Somerville's signing clearly demonstrates that you need to bring a significant asset to the table in order to land a lucrative sponsorship deal with a site.
In the years ahead, building a subscriber base on a site like Twitch.tv or Youtube will prove to be much more valuable than winning the World Series of Poker when it comes to landing a sponsorship deal with an online poker site. Online poker sponsorship is now a two-way street where both the site and sponsored player will need to work tirelessly to promote the brand.
--
Filed Under:
Online Poker Rooms