Prize Pool Tops $10 Million
Published on March 16th, 2015 5:58 am EST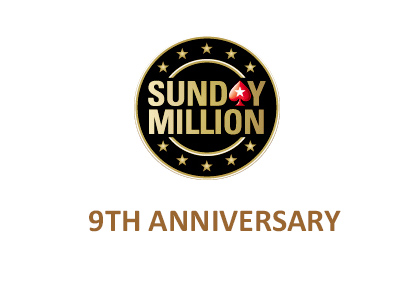 Pokerstars hosted the ninth anniversary of their "Sunday Million" event this past weekend.
In order to entice as many people to the event as possible, Pokerstars guaranteed a total prize pool of $9 million, with the winner of the event taking home $1 million guaranteed. Thanks to their standing as the world's largest online poker room, Pokerstars ended up easily topping this guarantee.
50,432 people ended up turning out for the $200 + $15 event, which created a total prize pool of $10,086,400. Barring any sort of final table deal, the winner would walk away with a payday of $1,087,844.41, while the runner-up would take home $793,295.36. Thanks to the staggering size of the field, a total of 8,397 players would end up receiving some sort of a payday.
Each entrant in the tournament paid $15 in rake as part of their buy-in, which meant that Pokerstars generated over $750,000 in rake from the event.
-
After roughly 15 hours of play, the final seven participants in the event agreed to an ICM chop with $100,000 left to the winner.
After some quick knockouts, "BRAYDEN93" (Mexico) and "kelly_koulis" (Greece) were left to battle for the extra $100k.
After a back-and-forth battle, the final hand of the event came when the two players decided to move their stacks into the middle after the turn with the board reading: 8c-9c-Jc-2d. The two players turned over:
"BRAYDEN93" - 9h-8h
"kelly_koulis" - As-Jh
"BRAYDEN93" had flopped two pair, while "kelly_koulis" had flopped a pair of Jacks and was in trouble.
The river brought the 4d, giving "BRAYDEN93" the massive pot and the victory.
-
Here is how the final table ended up finishing out:
1st - "BRAYDEN93", $597,719.60
2nd - "kelly_koulis", $725,267.11
3rd - "tiltinha", $567,978.95
4th - "PSMozak", $542,539.85
5th - "sonmonedas", $413,610.60
6th - "salaliitto", $394,207.12
7th - "ModzillaPL", $336,550.72
8th - "bari_nikolov", $119,523.84
9th - "Kokli_1", $87,247.36
--
Filed Under:
Online Poker Rooms