Shares of Amaya, Inc. Now Down 32% From Their High
Published on April 17th, 2015 7:52 am EST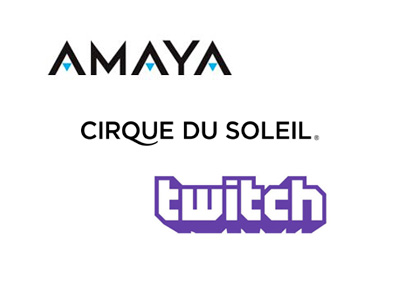 1. Amaya, Inc. Shares Continue To Crumble.
It was another distressing day for shareholders of Amaya, Inc. (the owners of Pokerstars and Full Tilt Poker) on Thursday as shares of the company continued to wilt. Amaya, Inc., which is listed on the Toronto Stock Exchange, traded down over 6% to close at $26.71. Volume was high, as nearly triple the daily average of shares changed hands.
Shares of Amaya, Inc. hit a high of $39.25 in November of 2014. Since that time, a number of news stories have conspired to pull down the value of the shares, including an insider trading investigation and the company's continued exclusion from the New Jersey online gaming market.
-
2. Sale of Guy Laliberte's Shares in Cirque du Soleil Not Finalized Yet.
Guy Laliberte, founder of Cirque du Soleil and the ONE DROP Foundation, is reportedly close to selling a large number of his shares in Cirque du Soleil. The transaction is reportedly set to be concluded early next week.
According to media reports, Laliberte is set to sell the majority of his shares to a group that includes a "large Chinese investment fund", Fosun Capital, US private equity firm TPG Capital and Quebec pension fund manager the Caisse de Depot. If the transaction goes through, TPG will hold 60% of the company, Fosun Capital will own 20%, while both Laliberte and Caisse de Depot will hold 10% stakes.
The transaction reportedly values Cirque du Soleil at between $1.5-$2 billion.
-
3. Daniel Negreanu on Twitch.
Daniel Negreanu, face of Pokerstars and one of the world's most popular poker players, dipped his toe into the world of Twitch.tv earlier this week and the results were immediate.
Negreanu streamed some of his play money action on Pokerstars.com earlier this week and attracted a flood of viewers. Despite having just started out in the world of Twitch.tv, Negreanu has already amassed over 7,000 followers and over 150,000 channel views.
Pokerstars has identified Twitch.tv as a key area of potential growth for their business. In addition to signing Jason Somerville to a sponsorship deal and creating their own channel on the site, Pokerstars has been pushing some of their higher profile sponsored players, including Daniel Negreanu, to stream on the site.
--
Filed Under:
Online Poker Rooms
|
Players In The News