Amaya, Inc.: Pokerstars Controls 66% of Global Online Poker Market
Published on May 15th, 2015 5:42 am EST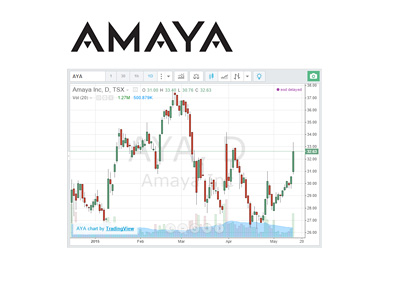 Shares of Amaya, Inc., which owns both Pokerstars and Full Tilt Poker, traded up 6.67% to $32.63 today after reporting their Q1/2015 earnings. Over 1.28 million shares of the company, which trades on the Toronto Stock Exchange, changed hands on the day.
According to Amaya, Inc. CEO David Baazov, Pokerstars, which was the crown jewel that led to the $4.9 billion buyout of Rational Group last summer, now controls 66% of the online poker market, up 62% from the same time last year. In addition, gross deposits to the site also grew 9%.
Baazov went on to say that the company's recent signing of Neymar, Jr. as a global brand ambassador should drive new customers to the site. As of the end of the first quarter, Pokerstars reported more than 93 million cumulative customer registrations, with nearly 2.5 million people choosing to sign up in Q1/2015.
Amaya, Inc. reported revenues of over $340 million in Q1/2015 and adjusted net earnings per diluted share of 41 cents. Marketing expenses in Q1/2015 increased $3 million to $59 million, while general and administrative expenses increased to $193.8 million.
-
Here are some more notes of interest from the earnings report:
1. Pokerstars still expects to enter the New Jersey online poker market in Q3/2015
2. Mobile users represented more than 60% of new account registrations
3. Ring/cash game revenue declined as a percentage of total revenues as many people switched to tournaments
4. Number of unique players who made at least one deposit during Q1/2015 up 1.3% from the year before
5. Average player played on Pokerstars 8.7 times per month
6. Casino offerings generated 6% of Amaya's B2C revenues in Q1/2015
7. More than 20% of eligible players on Pokerstars.com network played a casino game in March of 2015
8. Full Tilt Poker received a license from Denmark on May 13th, 2015
--
Filed Under:
Online Poker Rooms