888 Holdings Makes Cash/Share Offer for Bwin.Party
Published on May 18th, 2015 8:26 pm EST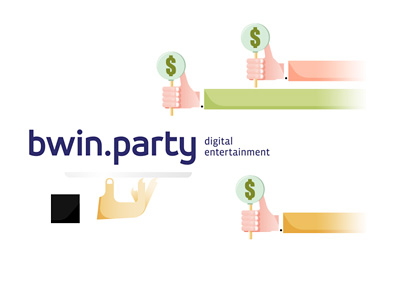 For the second day in a row, shares of Bwin.Party traded up substantially on heavy volume on the London Stock Exchange.
Bwin.Party has had a For Sale sign up in its window for a number of months now but were seemingly unable to attract any solid interest. Shares of the company stagnated as the company continued its efforts to find a buyer for its business. After months of looking, Bwin.Party is seemingly now the prettiest girl at the dance, as multiple companies are reportedly interested in purchasing the online gaming firm.
Earlier today, news broke that 888 Holdings had made a cash and share offer for Bwin.Party. Shortly after that, word leaked that Amaya, Inc., the company that owns both Pokerstars and Full Tilt Poker, might be teaming with GVC Holdings to purchase Bwin.Party. According to reports, a "special purpose vehicle" would be set up for the Amaya/GVC Holdings bid, with GVC Holdings reportedly holding the majority of the shares. According to the Financial Times, Amaya would have the option of immediately taking over Bwin.Party's struggling online poker unit, while GVC Holdings would attempt to bolster the casino, sportsbook and bingo operations. The Financial Times went on to say that the special purpose vehicle may end up selling the sportsbook unit to Amaya, Inc. "after two years".
According to Avi Shaked, the founder of 888 Holdings, his company has the majority of its shareholders "irrevocably committed" to a bid for Bwin.Party.
-
While Bwin.Party has struggled mightily in recent years thanks to stifling competition and regulatory issues, their sportsbook platform is seen as being the "crown jewel" of their operations.
Developing a proprietary sports betting platform from scratch is an expensive venture. A company like Amaya, Inc., which has set its sights on entering the lucrative sports betting market, may find it more appetizing to acquire an existing platform rather than developing their own.
-
The news of the bid from 888 Holdings and the possible bid from Amaya/GVC comes less than a week after GVC Holdings reportedly made an offer to acquire Bwin.Party in a "reverse takeover".
Will there be more groups (perhaps William Hill or Playtech) jumping into the fray to try to buy Bwin.Party? Whatever happens, it seems as though we are finally reaching the end stages of the prolonged Bwin.Party acquisition story.
Source: FT.com -
Amaya Gaming Joins High Stakes Battle For Bwin.Party
--
Filed Under:
Online Poker Rooms