Ronaldo Joins Neymar, Jr., Rafael Nadal at Pokerstars
Published on May 27th, 2015 7:31 am EST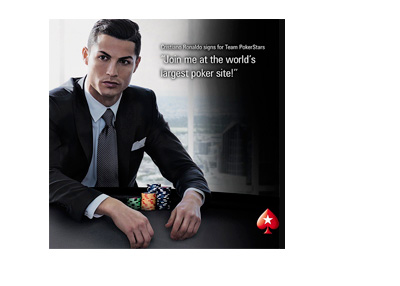 Earlier today, Cristiano Ronaldo announced via his Instagram account that he has officially signed with Pokerstars.
Ronaldo had this to say on his Instagram account:
"I've joined the world's best poker team! #pokerstars"
The message was accompanied by a photo that stated that Ronaldo has officially signed with Pokerstars.
-
A few weeks ago, Ronaldo posted a picture of himself playing poker with Pokerstars branded chips, leading many to believe that he was soon going to be announcing a deal with the site. Earlier this morning, that rumored deal became official.
With the signing of the Ronaldo deal, Pokerstars now has a very impressive stable of signed athletes including the likes of Cristiano Ronaldo, Neymar, Jr., Rafael Nadal and Ronaldo. Pokerstars is hoping that these deals will help the company penetrate the mainstream market in countries such as Spain, Brazil and Portugal.
-
Cristiano Ronaldo, who currently plays for Real Madrid and the Portuguese national team, is widely regarded as one of the best two football players in the world (depending on who you ask, people will almost always choose either Ronaldo or Lionel Messi). Ronaldo has won the Ballon d'Or multiple times, as well as multiple Premier League and Champions League titles. Since joining Real Madrid in 2009, Ronaldo has an astonishing 225 goals in 200 appearances.
Cristiano Ronaldo is one of the biggest superstars in the world and this is a massive signing for Pokerstars.
Source:
Cristiano Ronaldo on Instagram
--
Filed Under:
Online Poker Rooms