888 To Pay $1.4 Billion For Bwin.Party
Published on July 17th, 2015 7:19 am EST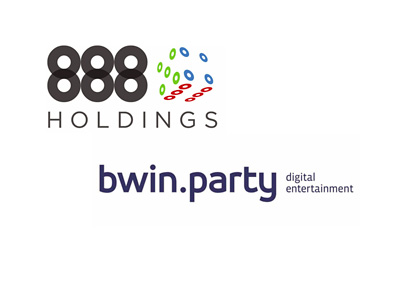 After months of discussions and negotiations, 888 Holdings has agreed to pay just under 900 million pounds ($1.4 billion) to purchase Bwin.Party, which is the parent company of PartyPoker.
888 Holdings had been competing with GVC Holdings Plc to purchase Bwin.Party. There were rumors that a GVC Holdings Plc deal was going to involve Amaya, Inc., which owns Pokerstars and Full Tilt Poker. According to reports, Amaya, Inc. was going to take over Bwin.Party's poker operations if a deal had been struck between GVC Holdings and Bwin.Party. In the end, however, 888 Holdings came out on top, despite the fact that the bid from GVC Holdings was a bit richer.
According to reports, the 888 Holdings/Bwin.Party deal will see Bwin.Party shareholders receive 39.45 pence in cash as well as 0.404 shares of 888 Holdings.
The 888 Holdings/Bwin.Party deal reportedly contains a break-up fee of almost 6 million pounds, which means that GVC Holdings Plc could come back with a sweetened deal. Bwin.Party, however, stated that the proposed deal from GVC Holdings Plc came with "additional execution risks", which means that they would not be likely to entertain a new offer from the company.
-
Investors and analysts are cheering the 888 Holdings/Bwin.Party deal, as shares of 888 Holdings are currently up over 6.5%. Analysts have been particularly upbeat about the potential synergies that a combined 888 Holdings/Bwin.Party entity will enjoy.
-
Bwin.Party has been struggling immensely in recent months and years thanks to intense competition from the likes of Pokerstars and William Hill. In addition, Bwin.Party has had to pull out of a number of different markets due to regulatory concerns.
A number of months ago, Bwin.Party officially put up a "For Sale" sign on its front door. Potential suitors were initially hesitant about purchasing the entirety of Bwin.Party's operation, instead wanting to pick up the best assets of the operation. Bwin.Party held firm, saying that it was the entire company that was for sale or nothing at all. After months of negotiations, Bwin.Party finally signed a deal and 888 Holdings was the winning bidder.
--
Filed Under:
Online Poker Rooms