GVC Holdings Continues Talks With Bwin.Party
Published on August 20th, 2015 9:22 pm EST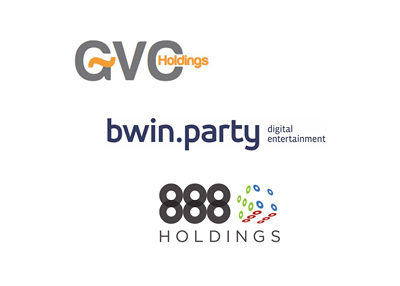 GVC Holdings plc, which is the owner or co-owner of the sportingbet, Casino Club and Betboo brands, remains committed to acquiring Bwin.Party.
GVC Holdings and 888 Holdings have been locked in a battle to acquire the parent of Partypoker for a couple of months now. Bwin.Party agreed to be acquired by 888 Holdings for 898.3 million pounds (roughly $1.4 billion USD) last month, though GVC Holdings has continued to aggressively court Bwin.Party. GVC Holdings has made multiple offers for Bwin.Party and has said that they will "pay more if necessary".
According to reports, GVC Holdings is going to increase their bid for Bwin.Party to just over $1.7 billion USD. Multiple media reports have said that GVC Holdings and Bwin.Party have held "positive" talks over the past couple of weeks. While 888 Holdings and Bwin.Party have already agreed to a deal, Bwin.Party is free to accept a higher bid if they pay 888 Holdings a break-up fee.
GVC Holdings has said that their deal will deliver the best value to Bwin shareholders, "both now and in the future".
Bwin.Party's board of directors is set to meet on Friday morning where they are set to discuss the current deal offers from both 888 Holdings and GVC Holdings. The expectation is that the board will give 888 Holdings more time to come back with a better deal offer and that the original deal for 898.3 million pounds is now off the table.
-
Bwin.Party originally chose the 888 Holdings deal over the offer from GVC Holdings, despite the fact that GVC Holdings was offering more money. Bwin.Party reportedly felt more "certain" about the 888 Holdings deal, as GVC Holdings' offer included the financial support of Amaya, Inc., which owns both Pokerstars and Full Tilt Poker. A deal with 888 Holdings, for instance, would allow Bwin.Party to continue to try to penetrate the US market. Amaya, Inc., as we've seen, still hasn't been granted access to a single US market as of yet.
GVC Holdings went in a different direction after their first offer was declined, choosing instead to engage the services of Cerberus Capital Management, LP to provide the financial backing for the transaction. This change, along with the increased bid size, reportedly has Bwin.Party's board re-considering the prospect of being acquired by GVC Holdings.
-
While 888 Holdings and GVC Holdings continue to spar, Bwin.Party's shareholders continue to see their shares rise.
Source: Bloomberg.com -
GVC Prepared to Make Higher Offer to Win Bwin.Party Bid Contest
--
Filed Under:
Other Poker News