Daily Fantasy Sports Industry Continues To Reel
Published on October 16th, 2015 5:35 am EST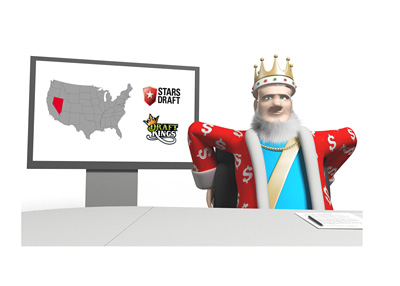 The bad news continued to pile up for the daily fantasy sports industry on Thursday after the Nevada Gaming Control Board ruled that all unlicensed DFS sites, including StarsDraft, must immediately cease and desist all operations in the state of Nevada until they receive proper licenses.
In a ruling released earlier today, the state of Nevada declared that daily fantasy sports sites are gambling operators and must be licensed to operate in the state. The Nevada Gaming Control Board concluded that entering a team into a daily fantasy contest is the same as placing a wager, which means that the operators of the sites must be licensed to operate in Nevada.
As a result of the decision, all of the major daily fantasy sports operators, including DraftKings, FanDuel and StarsDraft, have, at least temporarily, stopped servicing their customers in Nevada.
-
StarsDraft was formerly known as Victiv until it was purchased by Amaya, Inc. earlier in the year and re-branded. Amaya, Inc., in their quest to become a full-fledged online gaming company, purchased Victiv in order to enter the quickly expanding DFS industry. Unfortunately for Amaya, Inc., however, the industry soon came under fire shortly after their purchase was concluded.
-
As mentioned, the daily fantasy sports industry is currently reeling thanks to investigations from the FBI and Justice Department.
The industry is under fire after it was alleged that a DraftKings employee had used non-public player ownership data in order to win a great deal of money on FanDuel.com. At the time, both DraftKings and FanDuel didn't have any sort of rules in place that prevented their employees from playing on other daily fantasy sites.
The investigation into the companies has reportedly widened in recent days, with the FBI and Justice Department looking into the possibility that customers in states that are not allowed to participate in daily fantasy sports were coached as to how to deposit so that they could play.
-
In short - Amaya, Inc. seems to have entered the daily fantasy sports game at precisely the wrong time.
Source: WSJ.com -
FBI, Justice Department Investigating Daily Fantasy Sports Business Model
--
Filed Under:
Online Poker Rooms