McKeehen Takes Home $7,683,346 First Place Prize
Published on November 11th, 2015 10:18 am EST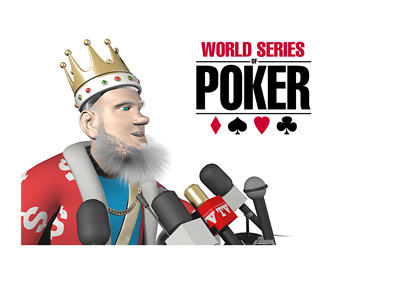 The final table of this year's World Series of Poker main event ended up being one of the most anti-climatic in history, as Joe McKeehen used his sizeable chip lead to eliminate the majority of his opponents and capture the first place prize of $7,683,346.
McKeehen's opponents tried valiantly to take a chunk out of the chip leader's stack, but the champion ended up proving too patient and too talented to get himself into any really bad situations. Instead, McKeehen was fine sitting back and waiting for his opportunities as his opponents grew increasingly desperate.
McKeehen turned in one of the most impressive final table performances of all time, as he never came even close to relinquishing his chip lead. McKeehen never saw his chip count dip below his final table starting stack, and none of his opponents were able to get above the 50,000,000 mark over the course of the three day final table.
The final hand of the event came when a short-stacked Josh Beckley elected to make his final stand holding pocket fours. McKeehen decided that his A-10 was enough and elected to make the call.
To the surprise of absolutely nobody in the audience, a Ten came on the flop, giving McKeehen the lead in the hand. Beckley didn't receive any help on the turn or river, and McKeehen was crowned the winner of the 2015 World Series of Poker main event.
-
Here is how the final table ended up finishing out:
1 - Joe McKeehen - $7,683,346
2 - Josh Beckley - $4,470,896
3 - Neil Blumenfield - $3,398,298
4 - Max Steinberg - $2,615,361
5 - Ofer Zvi Stern - $1,911,423
6 - Tom Cannuli - $1,426,283
7 - Pierre Neuville - $1,203,293
8 - Federico Butteroni - $1,097,056
9 - Patrick Chan - $1,001,020
-
All in all, McKeehen deserves a tremendous amount of praise for the way that he remained patient and cut through the final table like a buzzsaw.
--
Filed Under:
The World Series of Poker