Amaya, Inc. Loses Another 7% in Value as Shares Continue To Crater
Published on December 5th, 2015 11:00 am EST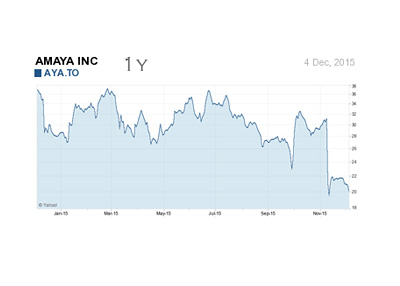 Shares of Amaya, Inc. continued to drop this week as the company continues to struggle to reassure investors of their strength going forward.
Following the release of their Q3/2015 earnings report in November, shares of Amaya, Inc. have plummeted as investors have hit the exit in droves. In the Q3 earnings report, Amaya, Inc., which is the owner of both Pokerstars and Full Tilt Poker, scaled down their expectations for profit and revenues for the current fiscal year, which resulted in many investors choosing to sell their shares. Amaya, Inc. largely blamed the reduction on a stronger US dollar.
The selling has continued unabated, despite the fact that Amaya, Inc. released their quarterly earnings report in the first half of November. Company executives have tried to express their confidence in the business going forward by adding more to their holdings, though this has done nothing to calm the frayed nerves of the company's investors.
The day that Amaya, Inc. announced that they would be purchasing Pokerstars, shares of the company opened at $20.15 on the Toronto Stock Exchange and closed the session at $19.95. After that, shares of the company soared, touching nearly $40/share.
In short, this means that practically everybody who bought shares of Amaya, Inc. after the acquisition of Pokerstars was announced is now likely underwater on their position, as shares of the company closed at just over $20/share on Friday.
-
Not helping matters for Amaya, Inc. was a three-day strike held earlier this week that was staged by a number of the site's high limit players. These players, upset over Pokerstars' decision to significantly alter the site's rewards program, elected to hold themselves out of any games on the site over the three-day period. It remains to be seen whether or not this strike will have any impact on the coming changes in 2016.
-
Pokerstars, which could seemingly do no wrong just a few short years ago, now finds themselves having to put out fires while attempting to reassure nervous investors.
Times have certainly changed.
--
Filed Under:
Online Poker Rooms