Kentucky Judge Says That Amaya Inc. Owes $870 Million
Published on December 25th, 2015 2:16 pm EST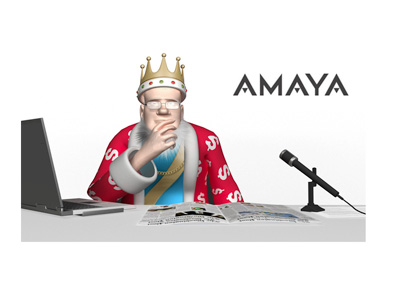 2015 has been a pretty horrible year for Amaya, Inc., and Christmas Eve provided the cherry on the sundae in the form of a $870 million court ruling against the owner of Pokerstars and Full Tilt Poker.
A Kentucky court ruled earlier this week that Amaya, Inc. is going to have to fork over $870 million to the state. This amount, according to the court, will cover the amount of money that was supposedly lost by residents of the state on Pokerstars between the years of 2006 and 2011.
Amaya, Inc. has said that the figure is complete nonsense and is based on players' gross losses, rather than net losses. Amaya, Inc. has said that the figure doesn't account for winnings, bonuses or free play. Amaya, Inc., in a statement that was released yesterday, said that the action is "a frivolous and egregious misuse of an antiquated state statute to enrich the contingent-fee plaintiff's attorneys hired by the Commonwealth and not the people of Kentucky."
Amaya, Inc. also pointed out that they only generated $18 million in revenues from the residents of Kentucky between 2006 and 2011, which, in their estimation, makes the $870 million figure even more ridiculous. Kentucky, according to the gaming firm, is relying on a "centuries old statute" that "was intended to allow individuals who incurred gaming losses to sue their opponents."
Amaya, Inc. will be posting a bond to stay the enforcement of the order and will appeal early in 2016.
-
Amaya, Inc., which purchased Pokerstars and Full Tilt Poker last year, has already said that they will be seeking recovery from the former owners of the business, if they are forced to pay any amount to the Commonwealth of Kentucky.
-
Bwin.Party, which was purchased by GVC Holdings earlier in the year, paid out $15 million to Kentucky in 2013 to settle the state's civil law suit against the firm.
Source: Reuters.com -
Kentucky Fines Pokerstars' Owner $870 Million To Cover Residents' Losses
--
Filed Under:
Online Poker Rooms