Shares of Amaya, Inc. Continue To Tumble
Published on January 15th, 2016 12:03 pm EST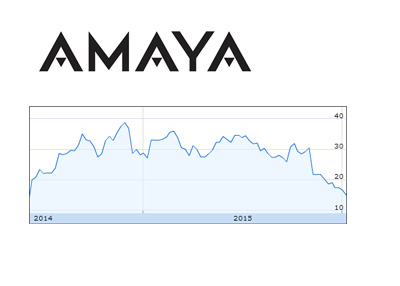 On June 12th, 2014, Amaya, Inc. (Amaya Gaming at the time) announced that they were purchasing Pokerstars and Full Tilt Poker. Shares of Amaya Gaming closed trading on June 12th, 2014 at $14.08 on the Toronto Stock Exchange before opening at $20.12 the next day.
Over the coming months, shares of Amaya Gaming would go parabolic, trading as high as $37.52. Pokerstars and Full Tilt Poker (especially Pokerstars) were seen as ATMs, and the possibilities for expanding into other markets (casino, sports betting, etc) were seemingly endless. The markets were telling us at the time that Amaya had any number of ways to extract even more value for shareholders. The future looked bright for online poker's new overlords.
The bloom, however, has certainly come off of the rose since the days of $37.52. As of this moment, shares of Amaya, Inc. are trading for $14.84 on the Toronto Stock Exchange, meaning that if you purchased shares following the original purchase announcement, you are very likely down a substantial amount on your investment. If you purchased shares at the high (somebody did) and held, you are currently down more than 60% on your investment.
It's almost hard to believe that a company that had so much positive momentum just a year ago could now be struggling so mightily, at least in the eyes of shareholders. The Pokerstars brand has taken a savage beating over that time - once seen as a completely untarnished brand, Pokerstars now has many players pining for the pre-Amaya days.
Over the past year, Amaya has been beset by a number of difficulties, including:
-strong US dollar (at least, this is what Amaya, Inc. is blaming for its poor results as of late)
-player strikes due to changes to its VIP points program
-defection of former sponsored pros such as Isaac Haxton due to the company's "unethical" behavior
-delay of the launch of the company's sports betting product
-uncertainty over the company's launch date in New Jersey
-$870 million fine from Kentucky
With the US dollar continuing to strengthen against many other world currencies, the expectation from many is that the company will have to revise their revenues and earnings expectations lower once again, which is certainly helping to weigh on the shares.
-
For many, Amaya's crumbling stock price is a warranted comeuppance for a company that is seen to have disappointed many of its customers continuously over the past year or so.
The question now - is Amaya finally a buy?
--
Filed Under:
Online Poker Rooms