Largest Aussie Millions Main Event Since Before "Black Friday"
Published on January 27th, 2016 12:02 pm EST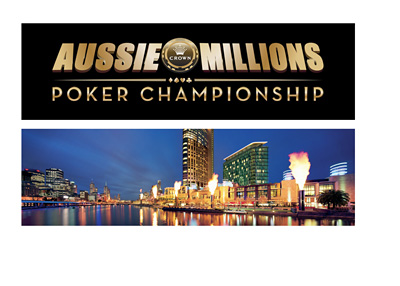 The 2016 Aussie Millions Poker Championship saw a total of 732 buy-ins this year, up roughly 13% from the year before. This is the largest turnout for the Aussie Millions main event since 2010.
Heading into this year's Aussie Millions event, many wondered just how well attended the tournament would be. After all, the turnout for the 2016 PCA was lacklustre, especially given the fact that the main event buy-in was halved from last year in an attempt to increase player turnout. Many wondered if the Aussie Millions tournament series would suffer as well, or if the PCA's problems were due to the fact that many people, especially high limit players, have been left feeling betrayed by Pokerstars.
Many professional poker players start their year off by hitting the Pokerstars Caribbean Adventure and then making a beeline for Australia. This year, a number of high profile players opted instead to head straight for Australia and skip the PCA altogether.
The Aussie Millions appeals to many players thanks to the beautiful weather, the friendly people and the Australian Open, which is currently underway right now. With such a negative sentiment towards Pokerstars at the moment, many people elected to spend some extra time in Australia instead.
-
The 732 player turnout means that this year's Aussie Millions main event will have a total prize pool of $7.32 million AUD, which translates into $5.16 million USD. The US dollar has performed well against the Australian dollar over the past year, and this certainly helped to boost the turnout to the event as well.
The winner of this year's Aussie Millions main event will take home $1,600,000 AUD, while the runner-up will receive $1,000,000 AUD. The top 80 spots will pay out.
--
Filed Under:
Other Poker News