Gold Introduced as World Series of Poker Champion and "Expert Odds Analyst"
Published on February 29th, 2016 10:17 pm EST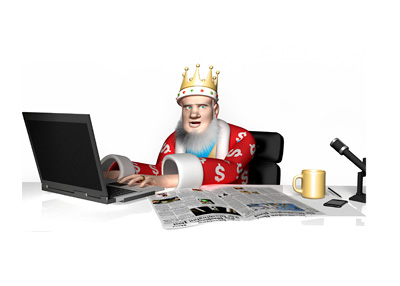 Jamie Gold, winner of the 2006 World Series of Poker main event, made an appearance on Fox News earlier today to discuss the odds for the upcoming US Presidential election.
Gold, who is currently in 17th place on the all-time tournament money list with career earnings of $12,446,538, has not been heard from much since he took down the 2006 World Series of Poker main event for $12,000,000. After being largely absent from the live poker tour, Gold experienced a resurgence of sorts this past summer when he placed 5th in a $1,500 No Limit Hold'em event at the World Series of Poker, taking home $120,952 in the process.
-
In his appearance on Fox News earlier today, Jamie Gold was introduced as a World Series of Poker champion and "expert odds analyst". Gold discussed the current odds for the US Presidential election which will be taking place later in the year.
Gold, who said that statisticians had predicted that there was a 99% chance of either Hillary Clinton or Donald Trump winning in November, advised Fox News viewers of a middling opportunity that existed that guaranteed a profit, provided that either Clinton or Trump wins the election.
-
Jamie Gold has been involved in a number of different business ventures since winning the WSOP main event in 2006, including the ill-fated "Jamie Gold Poker Room" at the Tropicana Las Vegas.
Will his career as an "expert odds analyst" take off? We'll see.
The full video of Gold's appearance on Fox News can be viewed below:
Source: FoxNews.com -
Poker Champion Reveals His Election 2016 Betting Odds
--
Filed Under:
Other Poker News