Can Bilzerian Cycle From Los Angeles To Las Vegas in 48 Hours?
Published on March 3rd, 2016 3:58 am EST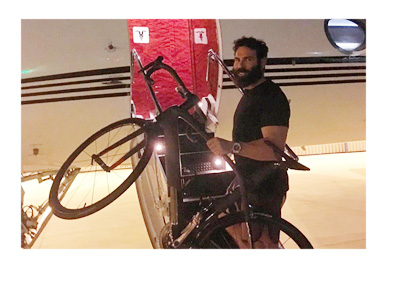 Forget about the release of the World Series of Poker schedule or the recently completed Global Poker League draft. The poker world is currently buzzing about the $1.2 million bet between high stakes poker players Dan Bilzerian and Bill Perkins.
Bill Perkins is known for his crazy prop bets - just ask Antonio Esfandiari, who was disqualified from the Pokerstars Caribbean Adventure main event as a result of one of Perkins' bets. Perkins has money to burn and loves nothing more than to entice people into making prop bets.
Dan Bilzerian and Bill Perkins have a $1.2 million prop bet going, with each person betting $600,000. The terms of the bet? Over the next month, Bilzerian will have to ride his bike from Los Angeles to Las Vegas in less than 48 hours. If Bilzerian makes it in under 48 hours, he wins $1.2 million. If Bilzerian can't complete the journey in less than two days, Perkins wins.
-
The prop bet has attracted the attention of some very well-known names. Joe Rogan, podcaster, UFC commentator and comedian, hooked Bilzerian up with the services of none other than Lance Armstrong, who will reportedly be coaching the "Instagram playboy" for the race.
Bilzerian, who claims that he has not been on a bicycle for nearly two decades, will have to battle the elements and some extremely difficult terrain in order to win the bet. Some believe that Bilzerian will easily win the bet, while others believe that he is drawing dead. While Bilzerian is clearly in great shape (he famously nearly became a Navy Seal), riding roughly 300 miles in less than 48 hours is a fairly gargantuan task, especially when considering the elements, lack of training and the higher elevation areas.
-
Bovada has gotten in on the fun and is currently offering odds on the bet:
Dan Bilzerian Wins The Bet, -300
Dan Bilzerian Loses the Bet, +200
These odds mean that Bovada thinks that Bilzerian is a significant favorite to win the wager. Bovada notes, however, that the use of performance enhancing drugs is prohibited and their detection will result in Bilzerian automatically losing the bet.
--
Filed Under:
Other Poker News