Shares Plummet Following Insider Trading Charges
Published on March 25th, 2016 5:07 pm EST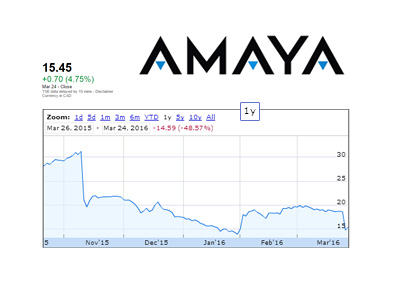 Shares of Amaya, Inc., the parent company of both Pokerstars and Full Tilt Poker, endured another horrible week after the CEO of the company, David Baazov, was charged with insider trading by Quebec's securities regulator. According to a press release that was released by the agency after the filing of five charges against Baazov, "the respondents are alleged in particular to have used, between December 2013 and June 2014, privileged information pertaining to the securities of Amaya Inc for trading purposes."
Shares of Amaya, Inc., which are listed on both the NASDAQ and Toronto Stock Exchange, fell over 20% on the news.
-
This should have been a glorious week for Amaya, Inc., as they finally were able to re-enter the United States via a launch of "Pokerstars NJ" in the state of New Jersey.
Instead, the past week turned out to be disastrous for the company and its shareholders.
As mentioned, Amaya's CEO, David Baazov, was charged with insider trading.
In addition, Pokerstars announced a rake increase on March 21st that led an already furious online poker community to grow even angrier and hostile towards the company.
As if all of that weren't enough, Moody's, a credit rating agency, revealed that they were lowering Amaya's rating outlook to negative following the charges against Baazov.
-
Over the past year or so, Amaya, Inc. has been able to infuriate players, affiliates and shareholders alike. Shares of the company are now off roughly 60% from their highs and have shown no signs of slowing their rapid descent.
--
Filed Under:
Online Poker Rooms