Shares of Amaya, Inc. Rally on News
Published on March 29th, 2016 6:36 pm EST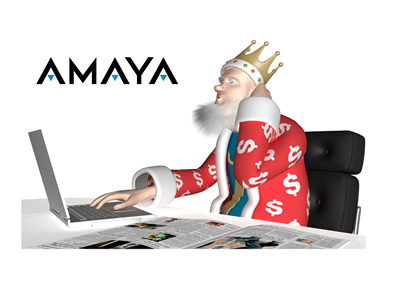 Shares of Amaya, Inc. (AYA on the NASDAQ) rallied nearly 12% today after the company's Chairman and CEO, David Baazov, revealed that he would be taking a temporary leave of absence.
According to a press release that was circulated earlier this morning, Baazov will be taking the temporary paid leave of absence for two reasons - one, to respond to recent insider trading allegations made by the securities regulatory authority in Quebec, and two, to focus on preparing an offer to take the company private.
According to the press release, Divyesh Gadhia has been named as the company's Interim Chairman, while Rafi Ashkenazi will serve as the interim CEO.
-
Earlier this month, Quebec's securities regulatory authority charged David Baazov with multiple crimes related to alleged insider trading. The charges included "aiding with trades while in possession of privileged information, influencing or attempting to influence the market price of the securities of Amaya, and communicating privileged information".
Shares of the company predictably tanked on the news, falling as much as 27% before recovering slightly. Amaya, Inc. has been struggling in the court of public opinion as of late, thanks to some unpopular rake increases and changes to its VIP rewards program. The news of the charges against Baazov just made a bad situation even worse for the shareholders of the company, as shares of Amaya, Inc. have dropped considerably over the last 12 months.
-
David Baazov had this to say after temporarily stepping down earlier today:
"As always, I continue to be dedicated to doing the right thing for Amaya and all its stakeholders. I believe that stepping down in the short term will help to avoid distraction for the company and its management while I vigorously contest all allegations made against me and pursue my bid to acquire the company."
-
These are certainly interesting times for a company that was soaring high just 12 months ago.
--
Filed Under:
Online Poker Rooms