Bonomo Vents at Pokerstars Owner Following Final Table Run in EPT12 Grand Final Side Event
Published on May 5th, 2016 6:18 am EST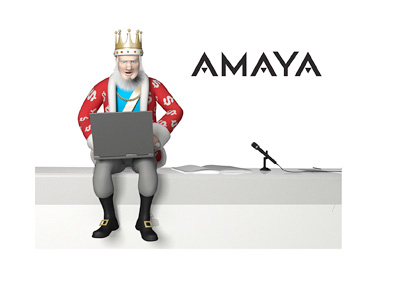 It's safe to say that Justin "Zeejustin" Bonomo and Amaya Inc. won't be exchanging Christmas presents anytime soon.
Justin Bonomo, along with other prominent poker players such as Ike Haxton and Alexander Millar, remains incensed at Amaya Inc. over changes that the online poker goliath made to their VIP rewards program last year. In 2015, Amaya Inc. dramatically cut back the rewards that they pay out to their high volume players on the site, namely their SuperNova and SuperNova Elite players. While the cuts were bad enough, many high volume players felt betrayed by Amaya Inc. as they felt that the company owed them their promised rewards for 2016. Amaya Inc. felt differently, which led many higher stakes players to cut ties with the site for good.
-
Justin Bonomo remains irate at Amaya Inc. and promised that he would no longer be conducting a typical poker room/player relationship with Amaya Inc.
To start, Bonomo said before the EPT 100k Super High Roller that he would not be conducting any interviews with Pokerstars or the European Poker Tour (which is also owned by Amaya Inc). Bonomo said that he saw "no reason to do unpaid promotional work" for a "company that has defrauded many thousands of players".
Later in the week, Bonomo made a deep run in Event #47, which he ended up cashing in for roughly 110k Euros. Bonomo, via his Twitter account, had something special in mind for the conclusion of the event:
"Part of the deal is that I get the trophy and the win, which I really wanted so I can say f!ck you to Amaya and refuse to do a winner photo"
After refusing to take a photo, Bonomo said:
"Floor man says they won't pay me if I don't do the photo :("
Bonomo said that the situation was resolved (without a photo being taken) after he offered to take a picture while holding a sign that said:
"They said they won't pay me if I don't take this photo.
SuperNova Elite: Pokerstars stole $50,000 from me."
-
While Amaya Inc. remains deeply unpopular with many higher profile players, prestigious events like the EPT Grand Final will keep drawing these players in. This should result in plenty more uncomfortable moments in the future.
--
Filed Under:
Other Poker News