Published on July 23rd, 2007 6:38 am EST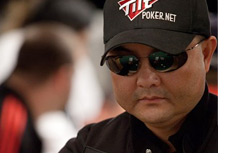 I'm sure that Jerry Wang is a really good person. He seems like he is a devoted family man, and based on his comments, a devout follower of the Bible. He doesn't live the degenerate lifestyle, and has said that he will devote 10% of his winnings to charity. So what's wrong with Jerry Wang winning the World Series of Poker?
For online poker rooms, a lot of things. Online poker rooms count on the televised World Series of Poker broadcasts to bring them an influx of new players. It will only help them if someone wins who is likable and with whom they can identify with. Jamie Gold was pretty much the worst champion ever for these reasons, but Jerry Yang isn't much better.
Online poker rooms target the young male demographic, as these are usually the people who sign up for a real money online poker account. A God-fearing older man with a large family is not someone who younger men really want to emulate. At least champions like Greg Raymer and Joe Hachem were likable; Jerry Yang made a number of comments at the final table that made himself inherently unlikable, much like Jamie Gold did the year before.
The online poker rooms were privately hoping that Hevad "Rain" Khan would win the main event. He was the perfect person to win; he was funny, charismatic and young, plus he makes his career grinding it out on the online poker tables. If "Rainkhan" had won, the message would have been: you too can win $8 million dollars if you grind it out on our poker tables. I can guarantee you that the poker rooms cringed when Rainkhan was knocked out of the event.
Maybe I'm wrong, but I strongly feel that Jerry Yang will be another dud WSOP champion in terms of drawing new players to the game. Chris Moneymaker, Greg Raymer and Joe Hachem were all great champions for different reasons; Jamie Gold and Jerry Yang are looking to be a couple of duds. Online poker rooms can only hope that next year brings about a more personable and charismatic champion that they can promote.
Photo: GreasieWheels.com
--
Filed Under:
The World Series of Poker