Ferguson Makes First Appearance at World Series of Poker Since 2010
Published on June 6th, 2016 1:17 am EST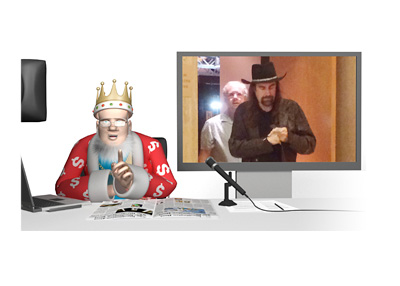 Chris "Jesus" Ferguson returned to the poker world on Saturday night after entering himself to play in the $10,000 Seven Card Stud Championship at the 2016 World Series of Poker.
Ferguson had remained out of the public eye since "Black Friday", which is the day that the US government shut down Pokerstars and Full Tilt Poker. The government later alleged that Ferguson, along with the other owners of Full Tilt Poker, had been running a Ponzi scheme that bilked poker player out of hundreds of millions of dollars in deposits. In September of 2011, Manhattan U.S. Attorney Preet Bharara said that Full Tilt Poker was not a legitimate poker company but instead was a "global Ponzi scheme".
-
In 2013, Ferguson agreed to a settlement with the United States Court Southern District of New York in which he agreed to forfeit millions of dollars to the US government. Ferguson, however, admitted no culpability, liability or guilt.
Many people assumed that with Pokerstars buying Full Tilt Poker and making most players whole, Ferguson would soon be returning to the poker world. Instead, he refrained from playing in live tournaments, and many assumed that he would forever remain out of the spotlight, a pariah never to return.
Instead, with a sheepish grin and a few terse "I'm just here to play poker" statements, Ferguson returned earlier this weekend, wanting to put the last five years behind him.
-
The reaction to Ferguson's appearance has been mixed.
Some feel that with Ferguson should be allowed back into the poker world, as most of the former customers of Full Tilt Poker have now been made whole. These people, who are definitely in the minority, seem to consist mostly of players who had a previous attachment to Full Tilt Poker 1.0.
Others, however, believe that Ferguson deserves to remain exiled from the poker world. After all, they say, it was Pokerstars that made the former customers of Full Tilt Poker whole. Ferguson, along with Lederer and others, cut deals with the government that likely allowed them to maintain a significant amount of their wealth without going to jail.
-
Most people assumed that it would be Howard Lederer, not Chris Ferguson, who would be attempting a "comeback" at this year's World Series of Poker.
According to reports, some players have challenged Ferguson while playing with him, though so far, the response at the WSOP has been mostly muted.
--
Filed Under:
The World Series of Poker