Tournament Series To Run From September 4th to September 26th
Published on August 8th, 2016 3:49 pm EST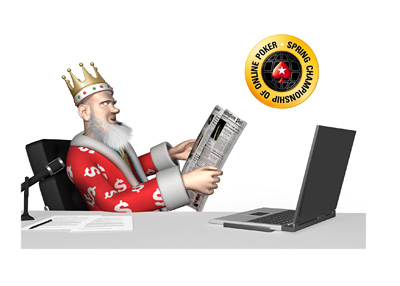 Earlier today, Pokerstars released the finalized version of this year's WCOOP (World Championship of Online Poker) schedule.
According to Pokerstars, the tournament series schedule changed numerous time following "weeks of feedback" and "many meetings". The company revealed that more than 100 individual changes were made to the schedule before it was eventually finalized.
There will be numerous changes to this year's WCOOP schedule, including:
-the introduction of the "Mini-WCOOP" companion series, which will follow the WCOOP schedule with much smaller buy-ins
-the elimination of 2nd Chance tournaments
-the introduction of a $102,000 Super High Roller event
-the addition of 12 more events
-the elimination of WCOOP bracelets
-
This year's WCOOP will run from Sunday, September 4th until Monday, September 26th.
The main event, which gets underway on September 25th, will have a $10 million guarantee and will award a minimum of $1.5 million to the eventual winner.
-
Here is the full WCOOP schedule:
Sunday, September 4th
08:00 - Event 01: $109 NL Hold'em [Sunday Kickoff SE, Final Day 1]
11:00 - Event 02: $215 NL Hold'em [6-Max, Sunday Warm-Up SE], Max Re-Entries: 3
12:30 - Event 03: $1,050 NL Hold'em [Marathon Event - Four-Day Event], Max Re-Entries: 5
14:00 - Event 04: $215 NL Hold'em [Sunday Million SE], Max Re-Entries: 2
17:00 - Event 05: $320 NL Omaha Hi/Lo [6-Max]
Monday, September 5th
10:00 - Event 06: $215 NL Hold'em [6-Max, Rebuys]
13:00 - Event 07: $700 NL Hold'em [8-Max, Progressive Knockout (50%)]
16:00 - Event 08: $700 PL Omaha [3-Max, Progressive Knockout (25%), Zoom]
Tuesday, September 6th
10:00 - Event 09: $1,050 NL Single Draw 2-7 Championship, Max Re-Entries: 1
13:00 - Event 10: $1,050 NL Hold'em [Super Tuesday SE]
16:00 - Event 11: $320 FL Omaha Hi/Lo [8-Max]
Wednesday, September 7th
10:00 - Event 12: $1,050 NL 5-Card Draw Championship, Max Re-Entries: 1
13:00 - Event 13: $215 NL Hold'em [Progressive Knockout (50%)]
16:00 - Event 14: $215 NL Hold'em [Big Antes], Max Re-Entries: 3
Thursday, September 8th
10:00 - Event 15: $215 PL Omaha [1R1A]
13:00 - Event 16: $1,050 NL Hold'em [Progressive Knockout (50%), Thursday Thrill SE]
16:00 - Event 17: $320 7-Card Stud Hi/Lo
Friday, September 9th
10:00 - Event 18: $320 NL Hold'em [Heads-Up]
13:00 - Event 19: $1,050 7-Card Stud Hi/Lo Championship, Max Re-Entries: 1
16:00 - Event 20: NL Hold'em [3-Max, Progressive Knockout (25%), Zoom]
Saturday, September 10th
04:00 - Event 21: $215 NL Hold'em, Max Re-Entries: 3
07:00 - Event 22: $215 PL 5-Card Omaha Hi/Lo [6-Max], Max Re-Entries: 3
10:00 - Event 23: $10,300 NL Hold'em [Heads-Up, High-Roller, No Late Registration]
13:00 - Event 24: $530 NL Hold'em [Progressive Knockout (25%)]
16:00 - Event 25: $1,050 NL Omaha Hi/Lo Championship [6-Max], Max Re-Entries: 1
Sunday, September 11th
08:00 - Event 26: $215 PL Omaha [6-Max, Progressive Knockout (25%)]
11:00 - Event 27: $215 NL Hold'em [Deep Payouts, Sunday Warm-Up SE], Max Re-Entries: 2
12:30 - Event 28: $102,000 NL Hold'em [8-Max, Super High-Roller], Max Re-Entries: 1
14:00 - Event 29: $700 NL Hold'em [Sunday Million SE]
17:00 - Event 30: $109 NL Hold'em [6-Max, Sunday Cooldown SE]
Monday, September 12th
10:00 - Event 31: $215 NL Hold'em [Rebuys]
13:00 - Event 32: $320 PL Omaha Hi/Lo [8-Max]
16:00 - Event 33: $320 NL Hold'em [6-Max], Max Re-Entries: 3
Tuesday, September 13th
10:00 - Event 34: $215 PL Omaha [6-Max, Progressive Knockout (50%)]
13:00 - Event 35: $1,575 NL Hold'em [Super Tuesday SE]
16:00 - Event 36: $1,050 PL Omaha Hi/Lo Championship [8-Max]
Wednesday, September 14th
10:00 - Event 37: $215 NL Hold'em [2R1A]
13:00 - Event 38: $320 NL Hold'em [6-Max, Shootout, No Late Registration]
16:00 - Event 39: $1,050 FL Omaha Hi/Lo Championship [8-Max], Max Re-Entries: 1
Thursday, September 15th
10:00 - Event 40: $320 NL Hold'em [8-Max]
13:00 - Event 41: $1,575 NL Hold'em [Progressive Knockout (50%), Thursday Thrill SE]
16:00 - Event 42: $320 Eight-Game
Friday, September 16th
10:00 - Event 43: $1,050 Triple Draw 2-7 Championship, Max Re-Entries: 1
13:00 - Event 44: $320 NL Hold'em [Ante Up, Progressive Knockout (33%)]
16:00 - Event 45: $320 FL Hold'em [6-Max]
Saturday, September 17th
04:00 - Event 46: $320 NL Hold'em, Max Re-Entries: 3
07:00 - Event 47: $1,050 Badugi Championship, Max Re-Entries: 1
10:00 - Event 48: $215 Players' Choice Event #1 [NL Hold'em]
13:00 - Event 49: $700 NL Hold'em [Mix-Max, Part 1, 8-Max]
16:00 - Event 50: $215 Players' Choice Event #2 [non-NL Hold'em]
Sunday, September 18th
08:00 - Event 51: $1,050 NL Hold'em [6-Max, Ultra-Deep]
11:00 - Event 52: $215 NL Hold'em [Sunday Warm-Up SE], Max Re-Entries: 2
12:30 - Event 53: $10,300 NL Hold'em [8-Max, High-Roller], Max Re-Entries: 1
14:00 - Event 54: $2,100 NL Hold'em [Sunday Million SE]
17:00 - Event 55: $530 NL Hold'em, Max Re-Entries: 3
Monday, September 19th
10:00 - Event 56: $215 NL Hold'em [Progressive Knockout (25%)]
13:00 - Event 57: $1,050 FL Hold'em Championship [6-Max], Max Re-Entries: 1
16:00 - Event 58: $320 Razz
Tuesday, September 20th
10:00 - Event 59: $320 NL Hold'em [Win the Button], Max Re-Entries: 3
13:00 - Event 60: $2,100 NL Hold'em [Super Tuesday SE]
16:00 - Event 61: $1,050 Razz Championship, Max Re-Entries: 1
Wednesday, September 21st
10:00 - Event 62: $530 NL Hold'em [Rebuys]
13:00 - Event 63: $2,100 PL Omaha Championship [6-Max], Max Re-Entries: 1
16:00 - Event 64: $320 HORSE
Thursday, September 22nd
10:00 - Event 65: $700 NL Hold'em [Ultra-Deep], Max Re-Entries: 3
13:00 - Event 66: $2,100 NL Hold'em [Progressive Knockout (50%), Thursday Thrill SE]
16:00 - Event 67: $1,050 7-Card Stud Championship, Max Re-Entries: 1
Friday, September 23rd
07:00 - Event 68: $320 PL Omaha [6-Max, Rebuys]
10:00 - Event 69: $700 NL Hold'em [6-Max, 5-Stack]
13:00 - Event 70: $21,000 PL Omaha [6-Max, High-Roller], Max Re-Entries: 1
16:00 - Event 71: $2,100 HORSE Championship, Max Re-Entries: 1
Saturday, September 24th
07:00 - Event 72: $109 NL Hold'em [Final Day 1]
10:00 - Event 73: $700 PL Omaha [Heads-Up]
13:00 - Event 74: $10,300 Eight-Game Championship, Max Re-Entries: 1
16:00 - Event 75: $700 NL Hold'em [6-Max, Progressive Knockout (50%)]
Sunday, September 25th - Main Event Sunday
08:00 - Event 76: $320 PL Omaha [Mix-Max, Part 1, 9-Max]
11:00 - Event 77: $215 NL Hold'em [8-Max, Sunday Warm-Up SE], Max Re-Entries: 3
14:00 - Event 78: $5,000 NL Hold'em Main Event - $1.5M Gtd to Champion!, Max Re-Entries: 1
17:00 - Event 79: $320 NL Hold'em, Max Re-Entries: 3
Monday, September 26th
10:00 - Event 80: $700 NL Hold'em [1R1A]
13:00 - Event 81: $320 PL 5-Card Omaha [6-Max], Max Re-Entries: 3
16:00 - Event 82: $1,050 NL Hold'em [WCOOP Wrap-Up], Max Re-Entries: 1
Source: Pokerstars.com -
WCOOP 2016 - Schedule Announcement
--
Filed Under:
Online Poker Rooms