"TMZ Live" Covers The Now Famous Hand Between Griffin Benger and Will Kassouf
Published on October 25th, 2016 10:58 pm EST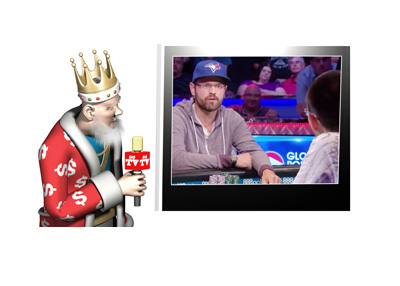 The now famous hand between Griffin Benger and Will Kassouf has officially gone viral, as "TMZ Live" interviewed Benger earlier today to discuss the hand.
On Sunday evening, ESPN broadcast the 13th and 14th episodes of their coverage of the World Series of Poker main event.
These two episodes featured the departure of Will Kassouf from the event, as he was eliminated in 17th place for $338,288.
Kassouf has been the subject of a great deal of discussion over the past couple of weeks, as members of the poker community have been arguing as to whether or not Kassouf's actions in the tournament crossed the line.
Kassouf took great pleasure in his banter during the tournament, as he was constantly needling his opponents and putting them on edge.
What agitated his opponents the most, however, was Kassouf's propensity to take as much time as possible before making a decision. His opponents quickly grew agitated and called the clock on Kassouf whenever the opportunity arised.
Many professional players agreed that Kassouf was entirely in the right with his table banter, though his desire to take the maximum amount of time before making any decision was tiresome and unfair to his fellow players.
-
One player who took a dim view of Kassouf's actions was Griffin Benger, who decided to blow up at Kassouf during a massive pot. Benger, who was dealt pocket Aces, grew frustrated at Kassouf's banter and desire to take as much time possible to complete his hand. Benger exploded on his opponent, calling him a "bully" and "verbally abusive". The two men eventually got their chips into the middle (Benger's AA vs Kassouf's KK), and Kassouf was sent to the pay cage a short time later. There were no tears shed as Kassouf left the tournament area, as his opponents were happy to see him go.
In his interview with "TMZ Live", Benger said that he had heard that Kassouf had made a female player cry earlier in the tournament, and that this had contributed to Benger's explosion in the now famous hand.
-
A villian makes for great TV, and ESPN struck gold this year in the form of Will Kassouf.
Source: TMZ.com -
WSOP Player Griffin Benger - I had to Take Down Kassouf.. He Made a Woman Cry!
--
Filed Under:
The World Series of Poker