Shares of Amaya Currently Trading at Steep Discount to Planned Purchase Price
Published on November 18th, 2016 4:33 pm EST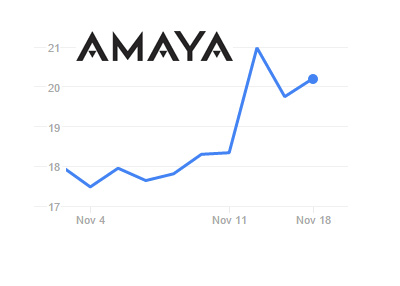 Earlier this month, former Amaya, Inc. CEO David Baazov revealed that he was making a fully financed offer to take his former company private.
Including debt, the total value of the Baazov deal would be C$6.7 billion. The deal would see Amaya's shareholders receive C$24.00 per share.
-
Shares of Amaya closed at C$20.20 on the Toronto Stock Exchange, far below the amount that Baazov and his team of backers are offering for the company.
After spiking from $18.34 to a high of $21.69 after Baazov's offer was announced, shares of Amaya have pulled back to the low $20s, as the market clearly doubts that the proposed deal will go through. The deal would see Amaya's shareholders receive $24 in cash, yet there is roughly a 20% gap between the current price of Amaya and Baazov's proposed deal price.
Amaya's board gave a seemingly tepid response to Baazov's offer, which led many to assume that they will not back Baazov's offer.
-
A proposed merger between Amaya and William Hill was scuttled roughly a month ago. One of William Hill's biggest shareholders publicly came out against the proposed deal, citing a large debt load for the combined company and Pokerstars' flattening growth, amongst other things.
After the deal with William Hill was terminated, many assumed that Amaya's path forward would be as an independent, publicly traded company. The market is currently telling us that Baazov, who has been promising to attempt to take Amaya private for months, will be unsuccessful in his bid.
--
Filed Under:
Online Poker Rooms