"Libratus" Up $700,000 After 71,512 Hands
Published on January 24th, 2017 2:15 am EST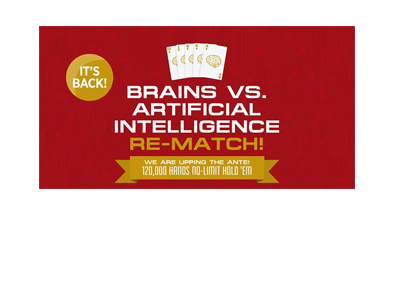 In 2015, a group of heads-up poker pros defeated computer player "Claudico" in the first "Brains vs AI" challenge.
In the first challenge, four of the top heads-up poker pros in the world - Doug Polk, Bjorn Li, Dong Kim and Jason Les - each played 20,000 hands of heads-up No Limit Hold'em against "Claudico", a heads-up No Limit Hold'em computer player that was designed by Professor Tuomas Sandholm and his graduate students at Carnegie Mellon University in Pittsburgh, Pennsylvania.
In the end, the pros took $732,713 in imaginary money from "Claudico", with Bjorn Li scoring the biggest win ($529,033).
-
In 2017, four pros - Dong Kim, Jason Les, Jimmy Chou and Daniel McAulay - are waging war once again against a bot powered by artificial intelligence. This computer player, which goes by the name of "Libratus", is proving to be a much stronger adversary. "Libratus", which was designed by Sandholm and Ph.D student Noam Brown, has developed its own strategy of playing after "15 million core hours of computation".
So far, 71,512 of the 120,000 hands that will comprise the challenge have been played, and here are the results:
Brains - ($701,242)
Libratus - $701,242
Dong Kim - $41,685
Libratus - ($41,685)
Jimmy Chou - ($184,480)
Libratus - $184,480
Jason Les - ($335,805)
Libratus - $335,805
Daniel McAulay - ($222,642)
Libratus - $222,642
-
Unless the pros mount a major comeback over the next couple of days, "Libratus" looks set to score a major victory.
Source: Rivers Casino -
Brains vs Artificial Intelligence Re-Match
--
Filed Under:
Other Poker News