Tournament Series To Feature Eight New Events
Published on January 27th, 2017 5:32 pm EST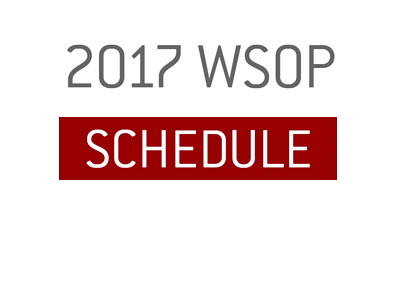 Earlier today, the World Series of Poker released its finalized schedule for this year's WSOP.
The tournament series will get underway on Wednesday, May 31st with the start of the $565 Casino Employees No Limit Hold'em event, and will officially draw to a close when the final table of the main event is decided on July 17th.
A total of 74 bracelet events will comprise this year's schedule, including a total of eight brand new events:
May 31st - $10,000 Tag Team No Limit Hold'em
June 3rd - $333 WSOP.com No Limit Hold'em
June 9th, 16th, 23rd, 30th, July 7th - $365 "The Giant" No Limit Hold'em
June 12th - $2,620 "The Marathon"
June 20th - $1,000 Super Turbo Bounty
June 26th - $10,000 Pot Limit Omaha Hi-Low Split 8 or Better
June 30th - $2,500 Mixed Big Bet Event
July 1st - $3,333 High Roller WSOP.com No Limit Hold'em
-
The very popular events from previous years, including the "Colossus III", the "Millionaire Maker" and the $888 "Crazy Eights", will all be returning to the fold this year.
-
The World Series of Poker also announced a couple of key changes this year in terms of how buy-ins can be purchased:
1) credit cards will now be accepted as a form of payment at the cages
2) players can purchase entries of up to $10,000 on their credit cards now, up from $1,500 last year
-
There has been a bit of controversy surrounding one of the new events.
Some people believe that a $333 buy-in for a World Series of Poker bracelet event is too low and cheapens the value of a bracelet. The $333 WSOP.com No Limit Hold'em event that begins on June 3rd features a $333 buy-in and unlimited re-buys. Is a $333 buy-in too low for a bracelet event?
-
World Series of Poker organizers have absolutely loaded this year's series with events that should draw a great number of people. Combined with the changes made to the way that people can pay for events, it seems very likely that the tournament will smash attendance records yet again this year.
Source: WSOP.com -
2017 WSOP Daily Event Schedule Finalized
--
Filed Under:
The World Series of Poker