Refund Process To Start More Than Six Years After "Black Friday"
Published on April 10th, 2017 11:20 pm EST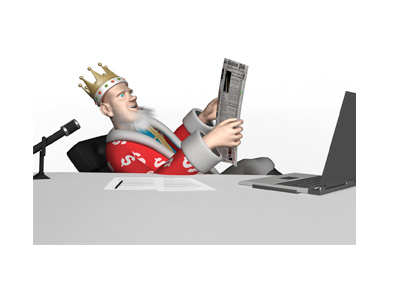 Christmas came early for many online poker players earlier today after the US Department of Justice revealed that the refund process for former US customers of both Absolute Poker and Ultimatebet would be commencing shortly.
In a press release circulated earlier today titled "Acting Manhattan U.S. Attorney Announces Compensation Program for Absolute Poker Victim Players", the Acting United States Attorney for the Southern District of New York, Joon H. Kim, revealed that "the United States had retained the Garden City Group ("GCG") to oversee a process for compensating eligible victims of a fraud committed by Absolute Poker against United States players who were unable to withdraw funds from Absolute Poker following the Office's filing in 2011 of a civil money laundering and forfeiture action against Absolute Poker and others in United States v. Pokerstars, et all."
The government revealed that the repayment process for former Full Tilt Poker customers is "winding down", with 44,320 claims having been approved to date for a total payout of $118,116,918.04. Now, the government is turning its attention to former customers of both Absolute Poker and Ultimatebet.
There was some initial confusion as to whether or not Ultimatebet customers would be included in the process, though it appears that they will be, as former Ultimatebet customers have been able to pull up mostly accurate balances on www.AbsolutePokerClaims.com, which was established by GCG to compensate the victims of the Absolute Poker/Ultimatebet fiasco.
According to Absolutepokerclaims.com, the petition for remission deadline is June 9th, 2017. With the Garden City Group handling the process once again, you can assume that it will be handled the same way, with payments being made directly to the bank accounts of those who have successfully filed their claims.
-
With over six years having passed since "Black Friday", there is no doubt that many of the balances on both Absolute Poker and Ultimatebet have been forgotten and won't be claimed. In addition, many people don't remember their usernames or even the email addresses that they used to sign up for either site.
Both AP and UB had heavy concentrations of casual players, which means that there are likely many small balances that people likely won't bother trying to claim.
-
A number of people sold their balances on AP and UB for pennies on the dollar, which means that the people who bought this money are in for some very big paydays.
-
Many people assumed that their money on Absolute Poker and Ultimatebet was lost forever. After all, "Black Friday" took place in 2011 and there was no indication that the AP/UB balances would ever be returned.
For many former customers of UB and AP, today was a very good day.
Source: Justice.gov -
Press Release
--
Filed Under:
Online Poker Rooms