Multi-Year Deal Between WSOP and Tencent Announced Before Start of Main Event
Published on July 8th, 2017 9:36 pm EST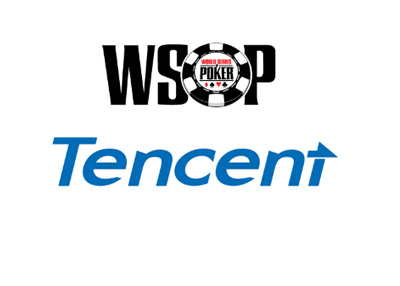 Shortly before the main event officially kicked off earlier today, the World Series of Poker and Tencent, a "leading provider of Internet services globally", announced a multi-year deal that will bring the WSOP brand to Asia.
As part of the deal, bracelet events such as WSOP China and WSOP Asia are expected to be hosted in the future.
Prior to that taking place, the World Series of Poker will be developing a program for Tencent "to help train and certify poker tournament staff and provide expertise on event structures, rules, equipment, procedures, etc., to ensure any live poker events in Asia use the globally-recognized standards of the World Series of Poker".
In addition, Tencent has also been granted the exclusive merchandising rights to the WSOP brand in Asia and the right to create a "WSOP branded game zone" in their popular Tencent Poker app.
-
The Asian market is obviously a potentially massive source of future revenue for the World Series of Poker, though the brand is going to have to successfully navigate the regulatory landscape in countries such as mainland China. This isn't stopping the WSOP/Tencent alliance from pushing forward with plans for WSOP and WSOP China Circuit events, complete with WSOP bracelets and rings for circuit events.
-
Tencent is one of the world's most valuable companies, as they have a large array of holdings ranging from gaming to payment systems to online advertising services. The company's assets include Tencent QQ and the ultra-popular WeChat mobile chat service.
With the World Series of Poker wanting to increase its footprint in Asia, they have picked the perfect company to partner with, as Tencent has a massive reach within mainland China.
Source:
WSOP and Asia's Tencent Reach Multi-Year Deal To Grow The Game In Asia
--
Filed Under:
The World Series of Poker